A congressional plan to pull the plug on the Corporation for Public Broadcasting would force Kansas stations to either spend less on programming or increase fundraising efforts, a station manager warned Monday.
"It's a pretty serious situation," said Eugene Williams, general manager at KTWU Channel 11 in Topeka.
Williams said the public television station received between $150,000 and $175,000 from CPB annually.
"That's about what we spend on a year's worth of 'Sunflower Journeys,'" he said, referring to the KTWU-produced program dealing with Kansas, its history and its people.
CPB grants have been instrumental, Williams said, in helping public television and radio stations convert to digital technology.
"That's been slated for elimination, too," Williams said.
Also on the chopping block:
l Support for public television's Ready to Learn programming, which includes "Sesame Street," "Dragontales," "Clifford," "Arthur," and "Postcards From Buster."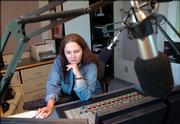 l Help in covering the costs of satellite technology used to distribute public television programming.
The U.S. House Appropriations subcommittee on labor, health and human services and education voted June 9 to cut more than $100 million from the corporation's $400 million budget next year. If passed, the proposal would drop the corporation from the federal budget in 2007.
KTWU recently urged its viewers to call their congressmen.
"I've had 50 to 60 calls and probably 100 letters - almost all of them opposed to the cut," said U.S. Rep. Dennis Moore, D-Kan., who represents the eastern half of Lawrence.
Moore said he would vote against the proposal when it reaches the House floor later this week. "I've been supportive of public broadcasting in the past, and I continue to be," he said.
Attempts to reach U.S. Rep. Jim Ryun, R-Kan., who represents the western half of Lawrence, for comment Monday were unsuccessful.
In recent years, conservatives often have accused the corporation of liberal bias in its programming and reporting. In December, the Bush administration criticized the public television children's program "Postcards From Buster" for an episode in which the main character, an animated rabbit, visited two families in Vermont headed by lesbians. The episode was sent only to PBS stations that requested it.
But the subcommittee's chairman, Rep. Ralph Regula, R-Ohio, insisted the proposed cut was driven by tight budgets rather than politics.
"Choices are easy when dollars are plentiful, but that was not the case this year," Regula said in a statement on his Web site.
Regula and others have said the corporation should wean itself from federal funding.
Janet Campbell, general manager at KANU FM 91.5, said she was confident the public radio station's donors and listeners would make up the $200,000 the radio station receives from the CPB.
"We put out a high-quality product," Campbell said. "I believe the public would support us."
Campbell said KANU had not yet posted a call-to-arms message on its Web site.
"I think we'll wait until after the Kansas Public Broadcasting Council meets. I want to hear what they have to say," said Campbell, who serves as the council's chairwoman.
The council, which comprises the managers of the state's five public radio stations and four public television stations, meets today in Pittsburg.
Copyright 2018 The Lawrence Journal-World. All rights reserved. This material may not be published, broadcast, rewritten or redistributed. We strive to uphold our values for every story published.