Martin K. Miller felt his wife of nearly 25 years wasn't meeting his needs.
He wanted more sex. He wanted her to appreciate his carpentry work and the work he did around the house. He wanted more communication, and he wanted more fun.
That's the picture that emerged Wednesday at Miller's first-degree murder trial, as prosecutors showed jurors excerpts from a diary the 46-year-old carpenter and former Christian-school leader kept on his computer in late 2002.
"I cannot face the idea of existing for another 20 or more years in this kind of relationship," the diary states. "Because of the strong teaching I received about how much God hates divorce, I decided that I need to stick this out."
Prosecutors say the diary helps show that Miller, a former board president of Veritas Christian School, had a motive to strangle his wife, Mary E. Miller, 46, last summer at their home at 2105 Carolina St. It was one of several pieces of computerized evidence - including pornographic photos and a letter to his mistress - shown to jurors on Wednesday, the second day of trial testimony.
Other witnesses Wednesday included Coroner Erik Mitchell, who said he was confident that Mary Miller's death was a strangulation, and Miller's 12-year-old son, Matthew, who said he heard his mother cry out in her bedroom and heard his father telling her to calm down.
Computer trail
Lawrence Police Detective James Schneider, a computer-forensics specialist, testified that he found the diary while examining a compact disc Miller kept in a hidden shelf built into his homemade computer desk.
Schneider said he found 6,801 pornographic images on the disc classified into different kinds of poses and sexual acts. Jurors viewed two of the images by passing them around the jury box.
Schneider also described finding folders full of pornographic images depicting Martin Miller and his mistress, Eudora resident Carrie Parbs. Prosecutors displayed four photos from the disc that showed Miller naked or nearly naked, which prosecutors said appeared to have been taken by Parbs.
Photo Gallery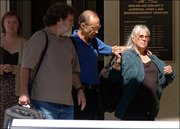 Martin Miller Trial Image Gallery
Also on the disc, Schneider uncovered a letter to Parbs in which Miller wrote that God had been leaning on him to cut back on their romantic encounters, at least as long as he stayed married.
"When I am a single again, yours will be the first door I knock on, if you are still available," the letter stated. "I still feel that God is going to work something out. I don't know when. I don't know how."
Coroner confident
Mitchell, the coroner, testified that when he arrived at the Miller home the morning of July 28, 2004, he knew there was concern it could be strangulation. That's because the first officers at the scene had found small, pinpoint bruises in Mary Miller's eyelids that often appear when blood pressure rises in the head during strangulation.
The drops also can be found after a heart attack, Mitchell said, but Mary Miller's heart appeared healthy during an autopsy.
Mitchell told jurors that inside the front of Mary Miller's neck he found something that alarmed him: a 1/8-inch-wide and 1-inch long bruise on one of the muscles. He pointed out the bruise on an overhead photograph and said that, somehow, pressure was applied there that damaged a blood vessel and caused blood to leak into the tissues.
"If I find this, I'm on the horn saying, 'We have a problem,'" Mitchell said. "We need to explain why this is there."
Mitchell said he found another area in the cartilage of Miller's voice box that was bruised. Both bruises seemed especially strange given there had been no effort to perform CPR, he said.
He said it's possible for interior tissues to bruise when the skin shows no bruising.
"We're kind of like luggage. We've got a tough outer covering that covers our soft, gooey insides," Mitchell said.
Mitchell also described finding a series of small, circular, unexplained bruises on the top of Mary Miller's scalp.
Defense attorney Mark Manna pointed out that Mitchell didn't conduct a detailed examination of Mary Miller's medical history. However, police say Martin Miller told them that she was "a healthy woman" and had no serious medical conditions.
Mitchell acknowledged that many signs commonly found in strangulation cases were absent. There were no external bruises, no fingernail marks on her neck, no defensive injuries, and no discoloration in her face.
But he said he was confident the case was a homicide, given what he saw at the crime scene and inside Miller's body.
"You have to look at the whole package," he said.
Son, police testify
Matthew Miller testified that he fell asleep on the floor of his bedroom the night of July 27, then awoke in the night and heard his mother making noises in the next room as if she were having trouble breathing. He testified hearing his father in the bedroom at that time.
"He just said, 'Calm down, calm down. Everything's going to be all right,'" Matthew Miller said.
Matthew, who appeared as a prosecution witness, told Manna he heard his mother crying out between 20 and 25 times during the course of about half an hour.
"Were you scared?" Manna asked.
"Yes," Matthew answered.
"What did you think was happening?"
"I wasn't really sure, and I heard my dad in there, so that's why I didn't go in."
His 14-year-old sister, Melodie, also testified on Tuesday that she heard her mother scream and heard her father telling her to calm down.
Miller, however, initially told police he'd been sleeping on a recliner in the living room all night and hadn't heard his wife scream.
Lawrence Police Detective Jack Cross testified that in a 2 1/2-hour interview with Martin Miller, he said he left his wife in bed about 2 a.m. to sleep in the living room, then didn't wake up until 6 a.m., when he found her dead.
Cross said Miller never told him he woke up to go to the rest room, fell asleep on the toilet, and awoke to hear his wife screaming as if she were having a nightmare - things that defense attorney Manna now says happened that night.
Cross testified that, during the interview, Miller told him he was scared and "blown away" that his children had told police they heard his voice in the master bedroom as their mother screamed.
Testimony is expected to resume today.
Copyright 2018 The Lawrence Journal-World. All rights reserved. This material may not be published, broadcast, rewritten or redistributed. We strive to uphold our values for every story published.