Lecompton — The United Methodist Church, 402 Elmore St., is celebrating its 150th year in Lecompton today with a series of daylong events.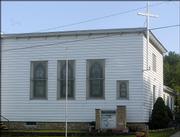 During those years the church saw four separate congregations develop from its roots in the Lecompton community. The church has had the previous names of the Methodist Episcopal Church South, Radical United Brethren in Christ Church and today's United Methodist Church.
The congregations have worshiped in different buildings at different locations. Its first church building was made of stone on Woodson Avenue. Some of the other locations were in the converted Windsor Hotel and even Constitution Hall and the Lane University Chapel.
Here is today's schedule of events:
¢ 9:30 a.m.: Sunday school.
¢ 10:45 a.m.: Old-fashioned worship service.
¢ Noon: Old-fashioned covered dish dinner.
¢ 1:30 p.m.: A walk through history with the following character re-enactments: Daniel Boone's grandson, Albert Boone; Rev. and Mrs. Cardwell; James Lane; Solomon Weaver; Horace Herr; David Eisenhower; Ida Stover, Bishop Milton Wright; Mrs. Doyle; John Brown; J.H. Snyder; Mrs. Hart and the Rev. Bert Schinger.
Copyright 2017 The Lawrence Journal-World. All rights reserved. This material may not be published, broadcast, rewritten or redistributed. We strive to uphold our values for every story published.