For the past decade, he's been living in a state prison hospital, undergoing a treatment regime that includes lie-detector tests and a device that measures sexual arousal.
But this week, 70-year-old Leroy Hendricks moved to a rural area near Lawrence in Leavenworth County as part of a program to help aging sexual predators adjust to life in the community. The program to house Hendricks is expected to cost more than $278,000 for the first 15 months, and he will be supervised around the clock by a private contractor - assuming he's allowed to stay here.
Here are answers to some of the key questions about the move:
Q: Will Hendricks stay?
A: It's too soon to tell. Late Friday, Leavenworth County officials said they'd won a restraining order that would require Hendricks to move out of the home because of alleged zoning violations. State officials couldn't be reached for comment about what they'd do with Hendricks if he was forced to leave.
Q: Just what is a "sexually violent predator?"
A: A 1994 law allowed Kansans to be held against their will for treatment if they had a "mental abnormality or personality disorder" that made them likely to commit repeated sex crimes.
Under the law, predators can be held and treated at Larned State Hospital even after they've finished their prison sentence.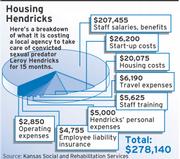 Q: Who decides who's a sexually violent predator?
A. The Kansas Department of Corrections notifies the Kansas attorney general before the release of someone who could fit the definition of a sexually violent predator. Not all sex offenders are flagged.
"Roughly the worst 30 percent of those coming out of DOC are referred to the Attorney General's office," said Mark Schutter, Larned's superintendent.
The attorney general then decides which of those inmates should be evaluated by Larned staff. Only about 30 percent of the people referred to the attorney general get evaluations, and about half of those evaluated are identified as possible sexual predators, Schutter said.
The attorney general files a petition in the person's home county alleging he is a sexually violent predator. The person has a right to a trial by jury where it must be proved beyond a reasonable doubt.
Q: Why spend taxpayers' money to put Hendricks in the community when he could be kept at Larned for one-fourth of the cost?
A: Predators must be evaluated every year to see how they're doing in treatment, and the report must be sent to the judge who handled the case.
At the beginning of this year, Sedgwick County District Court Judge Gregory Waller found that Hendricks was ready to try living in the community again.
Schutter, the Larned superintendent, said Hendricks has been successful enough in treatment to deserve a chance outside the hospital.
"He's met his end of the bargain," he said.
Sometimes, Larned sends people who reach Hendricks' stage of treatment to live in a group home at Osawatomie State Hospital, but Hendricks has special needs because of his age and physical problems.
Q. The program to house Hendricks is costing about $18,500 per month. Where is the money coming from, and how is it being spent?
A: The money comes from the state's general fund and is part of the budget for the department of Social and Rehabilitation Services.
Most of the money - about $207,445 - is being spent on salaries, payroll taxes and benefits for seven employees of a local agency who will be paid to watch Hendricks around the clock. The agency is now being called "Community Provisional Living" and is overseen by area resident Rick Whitson.
Other major expenses include $26,200 for start-up costs including a vehicle, furniture, and making Hendricks' home handicapped-accessible; $20,075 for housing costs including utilities and mortgage payments; and $6,190 for transportation, including mileage costs and vehicle insurance.
Q: How was the public notified of the plan to house Hendricks?
A: In late January 2005, SRS put out a notice asking agencies to submit bids for the project. The request was publicized in the Kansas Register and through mailings to social-service agencies around the state.
SRS announced that Hendricks was moving to the Lawrence area after the contract was signed and days before the move was to take place.
Q: Is Hendricks a threat?
A: Schutter, the Larned superintendent, said it would be irresponsible to say there was no risk. But he said there's less of a risk now that Hendricks has undergone years of behavioral therapy.
Hendricks told the Journal-World in an interview that he would never be entirely cured of pedophilia, but he's learned to keep it under control. He said he has limited use of his hands and suffered a stroke in 2001.
Also, Whitson pointed out that few other sex offenders in Kansas have 24-hour supervision.
Q: Why isn't Hendricks listed on the sex-offender registry?
A: Because of a 1996 Kansas Supreme Court ruling, only people who committed crimes after April 14, 1994 - the date Kansas' sex-offender registry was created - can be required to put their names on the state's online offender registry, http://www.accesskansas.org/kbi/ro.shtml.
The court found that listing people's names for crimes that happened before the registry's creation would violate their constitutional protection against retroactive punishment.
The Journal-World learned from Leavenworth County officials that Hendricks was being housed on Golden Road near Kansas Highway 32 in southwest Leavenworth County.
Q: Will there be more predators moving here?
A: The population of the sexual-predator program at Larned - which recently stood at 127 inmates - is expected to grow by at least 100 people in the next decade.
The home where Hendricks will live was expected to house up to two more aging predators.
SRS official Leslie Huss said it's possible there will be the need for more group homes in the future, but she said they wouldn't necessarily be in the Lawrence area.
Copyright 2018 The Lawrence Journal-World. All rights reserved. This material may not be published, broadcast, rewritten or redistributed. We strive to uphold our values for every story published.