Lawrence City Band concerts are scheduled for 8 p.m. Wednesdays in June and July. The concerts are at South Park's William Kelly Bandstand, and are simulcast on KLWN 1320 AM radio.
The lineup for the remainder of the season is:
June 8 - "Heritage and Tradition"
June 15 - "Stars and Stripes and Sousa"
June 22 - "Music from the British Isles"
Photo Gallery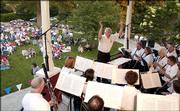 Summer Band Concert
June 29 - "Salute to Our Veterans, and Celebrate America"
July 6 - "Children's Concert"
July 13 - "Latin Magic"
July 20 - "The Grand Finale Concert"
Copyright 2018 The Lawrence Journal-World. All rights reserved. This material may not be published, broadcast, rewritten or redistributed. We strive to uphold our values for every story published.