Moscow — The fallen oil tycoon Mikhail Khodorkovsky was sentenced to nine years in prison Tuesday, ending the biggest case in post-Soviet Russia. The year-long trial spurred accusations that it was linked to Khodorkovsky's opposition to President Vladimir Putin, and stoked the fears of foreign investors.
The 41-year-old Khodorkovsky was convicted Tuesday on charges that included tax evasion and fraud. He promised to clear his name, and his Yukos oil company promised to fight a series of court battles - keeping a spotlight on doubts about the rule of law in Russia.
"Shame! Shame!" Khodorkovsky's supporters chanted outside the Meshchansky court, where they rallied daily during the year-long trial holding portraits of the capitalist-turned-philanthropist and yellow and green balloons, the colors of the Yukos company he founded and turned into Russia's biggest oil producer.
In Washington, President Bush criticized Khodorkovsky's trial in unusually blunt language aimed at a U.S. ally in the war on terrorism. "Here, you're innocent until proven guilty and it appeared to us, at least people in my administration, that it looked like he had been adjudged guilty prior to having a fair trial," Bush said.
Capital flight has tripled in Russia in the year since Khodorkovsky's arrest, and the growth of oil exports has slowed sharply, raising questions about the state's stronger hand in the vital industry.
Political motives seen
While Khodorkovsky, who was once estimated to have a $15 billion fortune through his now-dismantled oil empire, is widely unpopular as one of the "oligarchs" who became immensely wealthy during the murky post-Soviet privatization of state industries in the 1990s, many Russians saw political motives behind his trial.
His supporters contend it was part of a Kremlin-driven campaign to punish him for financing opposition parties and to stifle his own political ambitions.
After spending 583 days in custody, he faces 7 1/2 years more in prison, which would him jailed past the 2008 election to pick Putin's successor and potentially the 2012 ballot as well.
Natalya Vishnyakova, a spokeswoman for the prosecutor-general, denied the case had anything to do with politics. She said it was only about "banal theft."
A co-defendant, Platon Lebedev, was found guilty of the same charges and given the same prison sentence.
A third defendant, Andrei Krainov, got a 5 1/2-year suspended sentence.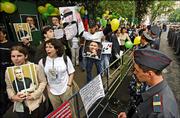 Khodorkovsky and Lebedev, who will serve their time in a medium-security prison, also were ordered together to pay more than $615 million for taxes and penalties the court found to be owed by companies they were involved in.
Khodorkovsky was additionally ordered to pay $42.5 million in income taxes, and Lebedev was ordered to pay $581,000.
"I do not admit my guilt and consider my innocence proven, so I am going to appeal the sentence," Khodorkovsky said. "For me it is matter of principle to achieve truth and justice in the motherland."
Asked whether she had expected the tough sentence, Khodorkovsky's mother, Marina, said: "Of course, I live in this country. ... I lost (hope) the day we elected Putin."
Scaring off business
Most analysts have interpreted the Yukos affair as essentially aimed at imposing government supremacy over business after a decade in which big business, epitomized by Khodorkovsky's empire, exploited the weakness of the post-Soviet state to amass ever larger fortunes.
In this, market watchers say, Putin's administration succeeded - at a heavy cost.
"I don't think any of the big business groups will want to take on the Kremlin openly now," Roland Nash, head of research with Renaissance Capital, told Dow Jones Newswires.
But the result is that concerns about Russia's observance of legal propriety and respect for shareholders' rights are deterring foreign investment and spooking foreign governments.
Copyright 2018 The Associated Press. All rights reserved. This material may not be published, broadcast, rewritten or redistributed. We strive to uphold our values for every story published.