St Petersburg, Fla. — Scott Kazmir took another step forward in his promising career.
Kazmir struggled early, but rebounded for his third consecutive victory as the Tampa Bay Devil Rays overcame a five-run deficit Thursday to beat the Kansas City Royals, 10-5.
The 21-year old rookie gave up five runs - all in the first and second - and seven hits in seven innings.
"I feel like I learned a lot," Kazmir said. "Just knowing it doesn't matter what the score is ... anything can happen. I thought it was one of those days, and my teammates behind me just kept on saying keep it there, we'll battle back, and they did."
Kazmir (6-7) struck out a career-high 10 and walked three. He gave up just one hit and one walk over his final five innings.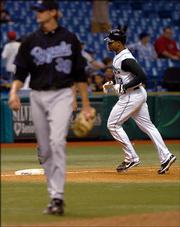 "That's where you see the advancement for this young pitcher," Tampa Bay manager Lou Piniella said.
"If this had happened last year, he'd be out of the ballgame in the third or fourth inning," Piniella said. "But he settled down, got his composure and pitched."
Carl Crawford hit a two-run homer in Tampa Bay's five-run fifth. The big inning gave the Devil Rays a 7-5 lead after falling behind 5-0 in the second.
"It was early in the game," Crawford said. "Guys know there's a bunch of game left. What you like to do is try and chip it off little by little."
Nick Green had an RBI single before Crawford tied it at 5 with his homer off Kyle Snyder (0-2). Aubrey Huff added a run-scoring double, and Damon Hollins had an RBI single to give the Devil Rays the two-run lead.
"The fifth inning, it was just rapid fire," Snyder said. "I stayed in the strike zone ... they were hitting off-speed pitches. The location of my fastball on a couple pitches wasn't too good. Mix in a few broken-bat base hits and it just landslided on me."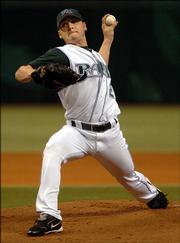 Crawford's homer was his career-high 12th and it gave him 56 RBIs, also a career best.
Tampa Bay is 9-5 since the All-Star break. Thursday's comeback was the Devil Rays' biggest this season.
"They had some good at-bats," Royals manager Buddy Bell said. "They deserved to win."
Snyder gave up nine runs and 12 hits in five-plus innings. The right-hander, who missed all of last season and spent time on the disabled list this year because of shoulder injuries, was making his second start, and eighth appearance, in 2005.
Julio Lugo greeted reliever Jimmy Gobble - who replaced Snyder in the sixth - with a two-run double and later scored on the left-hander's wild pitch to extend the lead to 10-5.
Mike Sweeney put the Royals up 2-0 with a two-run double in the first. Chip Ambres hit his first major-league homer - a two-run shot - during a three-run second that put Kansas City ahead 5-0.
¢ Notes: The announced crowd of 8,308 was the smallest this season at Tropicana Field. ... Sweeney has 17 RBIs in his last 16 games. ... Snyder was looking for his first win since beating Los Angeles on June 4, 2003. That is his only major-league victory.
Copyright 2018 The Associated Press. All rights reserved. This material may not be published, broadcast, rewritten or redistributed. We strive to uphold our values for every story published.