Kansas City, Mo. — Twinkie the Kid's getting a makeover.
For the first time in 25 years, the Hostess brand of snack cakes, which include Twinkies, Ho Hos and Ding Dongs, are getting brand new packaging designed to update the product line's look and improve its visibility on store shelves.
The new design, announced Thursday, keeps the same red, white and blue coloring, but features more vibrant graphics and, in the case of the Twinkies box, doubles the size of Hostess mascot Twinkie the Kid.
"The brand was tweaked nine years ago, but it hadn't been changed for 25 years, which was why it was important for us to do a major rejuvenative process to freshen up the Hostess brand image," said Jacques Roizen, interim marketing chief for Kansas City-based Interstate Bakeries Corp., which makes Hostess snack cakes.
Roizen said Interstate Bakeries began rolling out the new packaging in California, Nevada and Arizona earlier this month and the new boxes should be in stores nationwide by the end of the year. He said the company also plans a series of television ads, billboards and grocery store displays to herald the new look.
For Interstate Bakeries, which filed for Chapter 11 bankruptcy protection in September, the Hostess revamp is one of several recent steps the company has made to rebuild its reputation in the marketplace.
Earlier this year, the company rolled out a new super-premium bread under its Baker's Inn label, addressing a product weakness some analysts said participated in the company's financial problems. A few weeks ago, Interstate Bakeries announced it was coming out with a whole wheat version of its Wonder Bread line, hoping to capture some of the health-conscious consumers who have abandoned white bread.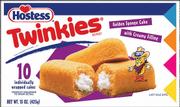 Roizen said he couldn't say whether Interstate Bakeries would have made the Hostess changes if the company hadn't gone bankrupt. But he said the revamping was a natural fit when the company began laying out its post-Chapter 11 strategy.
"Most things you do in the context of restructuring are things almost everyone agreed needed to be done," he said. "The sense of urgency has allowed us to deliver these innovations to the marketplace."
Shares of Interstate Bakeries, sold in the speculative over-the-counter market, were up 5 cents at $9.65 in trading Thursday afternoon. Shares have traded in a 52-week range of $9.56 to $9.65.
Copyright 2018 The Lawrence Journal-World. All rights reserved. This material may not be published, broadcast, rewritten or redistributed. We strive to uphold our values for every story published.