RIVER FALLS, WIS. — That tough old taskmaster Dick Vermeil has softened up in the twilight of his career.
Or should that be smartened up?
Assistant coaches no longer are required to work such long, grueling days that Vermeil insists they have beds in their office for quick power naps.
And as the Kansas City Chiefs opened training camp Thursday in what could be Vermeil's final season as head coach, a few veterans even are looking forward to taking some time off.
So, will Vermeil's 15th training camp as a head coach be easier than the first 14?
"Not easier," he said Thursday. "Better, I hope. If you don't change what you do, then you get the same results."
The Chiefs opened camp Thursday on the campus of the University of Wisconsin-River Falls with a determined goal not to have the same results as last year, when they got off to a 1-3 start and limped home 7-9, missing the playoffs for the sixth time in seven years.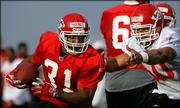 Getting off to a good start could be difficult this year since the first four games include three playoff teams and the archrival Oakland Raiders, who have acquired wide receiver Randy Moss. For those four, the Chiefs also will be without cornerback Eric Warfield, who has been suspended for the first quarter of the season after driving under the influence.
Thursday's first practice showed that veteran Dexter McCleon, not a couple of newcomers, will be given first shot to replace Warfield. He was lined up opposite Patrick Surtain, one of several high-profile offseason acquisitions.
Undersized at 5-foot-10, the nine-year veteran played well in 2003, his first season with the Chiefs. But he struggled mightily last year and was one of the main culprits in what turned out to be a team-wide defensive collapse.
"He's going to be our starting cornerback. I've said all along I have tremendous confidence in him," Vermeil said. "I believe he's physically and mentally and emotionally prepared to have a great training camp and a great season."
An added incentive for McCleon will be the two backups the Chiefs have signed. Ashley Ambrose, who has played in 192 career regular-season games, was signed last month. And showing up at camp Thursday was DeWayne Washington, who has played in 175 games in his NFL career.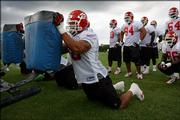 Linebackers Scott Fujita and Mike Maslowski and wide receivers Chris Horn and Marc Boerigter watched practice Thursday hoping they would pass physicals that were scheduled later in the evening. All are coming off injuries.
"We're going to work them out now independently with our trainers, and if they work out fine and feel good, they'll get a clearance and be on the field tomorrow," Vermeil said.
Also sitting out the last part of practice Thursday was Pro Bowl right guard Will Shields. Vermeil plans to take it easy on 13-year pros Shields and Pro Bowl left tackle Willie Roaf.
"We're just taking it real slow with (Shields). His back was bothering him a little bit, so we're just going to be very patient with his preparation," Vermeil said.
Taking it easy on what Vermeil calls "the vintage players" will be a key strategy of camp.
So will making full use of gleaming new lockers and other facilities, built with the help of the state of Wisconsin in its effort to persuade the Chiefs to keep coming every summer and providing an economic boost to this little college town.
"I think (the new facilities) are great for the attitude of the players," Vermeil said. "And it also shows the school and the state of Wisconsin respect the Kansas City Chiefs. They treat them like a pro football team and put up facilities equivalent to a pro football team. It's really nice."
Copyright 2018 The Associated Press. All rights reserved. This material may not be published, broadcast, rewritten or redistributed. We strive to uphold our values for every story published.