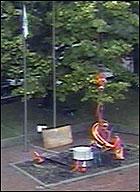 Despite this morning's rainfall, a new sculpture was being installed in downtown Lawrence in honor of the city's 150th birthday anniversary.
The sculpture, "Freeform," created by Stephen Johnson, was being installed this morning by a crane at the southwest corner of the intersection of Sixth and Massachusetts streets, across from city hall. The 10-foot-tall painted steel scultpure rests on a two-foot limestone base.
"The Lawrence Arts Commission commissioned the project in 2004 as part of the city's 150th anniversary celebration. This is the completion of work that was started over a year ago," said Lisa Patterson, the city's communications manager.
The official unveiling of the artwork is scheduled for 11:30 a.m. Thursday, Patterson said. The project was budgeted at $53,000.
Copyright 2017 The Lawrence Journal-World. All rights reserved. This material may not be published, broadcast, rewritten or redistributed. We strive to uphold our values for every story published.