Baghdad, Iraq — Suicide car bombs and explosions rocked wide areas of the Iraqi capital Friday, targeting U.S. and Iraqi security forces and killing at least 29 people. Two U.S. Marines died in a blast near the Jordanian border.
At least 111 people, including seven American soldiers, were wounded in the bombings - at least seven of them suicide attacks. One of the suicide bombings occurred after sundown on a bridge over the Tigris River near the home of President Jalal Talabani.
Three security guards were killed and nine people were wounded in that attack. Talabani was at home at the time, aides said, but the target may have been a U.S. convoy.
The wave of attacks, which began at midmorning and persisted after nightfall, marked an escalation in car bombings in Baghdad after a six-week U.S.-Iraqi offensive sharply reduced their numbers since May.
They took place one day after a suicide attack on the Green Zone in which one would-be bomber was captured. A suicide blast near a U.S. convoy on Wednesday killed 27 people, including 18 children and one American soldier.
"The terrorists continue to strike at the most innocent," U.S. Col. Joseph DiSalvo said of the civilian casualties. "There is no place in a civilized society for these murderers."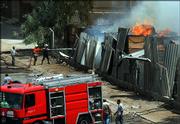 In the deadliest attack Friday, a suicide car bomber struck an Iraqi army base in the Shaab neighborhood of Baghdad, killing eight Iraqis, including civilians and security personnel, and wounding 20, Maj. Khazim al-Tamimi said.
Another suicide car bomb Friday evening in western Baghdad targeted a police commando patrol, killing six policemen and wounding 45 people, including 38 civilians, police Capt. Taleb Thamer said.
Two Iraqi soldiers died and seven people were wounded when a suicide attacker detonated a car bomb near an Iraqi patrol in Andalus Square in central Baghdad, Col. Salman Abdul Karim said.
A car bomb also exploded near a U.S. convoy in the Rustamiyah area of southeastern Baghdad, wounding two Americans, the U.S. military said.
Two Iraqi soldiers were killed and 14 people wounded in a suicide car bombing at the former Defense Ministry building in northern Baghdad, Iraqi officials said.
Another car bomb exploded in eastern Baghdad, wounding six people, including a U.S. soldier, police said.
Also Friday, a roadside bomb exploded as a U.S. military patrol was passing near the west Baghdad neighborhood of Amiriyah, police Lt. Majed Zaki said. One Iraqi civilian was killed and eight people, including four U.S. soldiers, were wounded, officials said.
Al-Qaida's wing in Iraq claimed responsibility in Internet statements for the attacks in Rustamiyah and Andalus Square, but the authenticity could not be confirmed.
The two U.S. Marines died Thursday in a roadside bombing during combat operations near the border with Jordan, the U.S. military said in a statement Friday.
At least 1,761 members of the U.S. military have died since the Iraq war started in March 2003, according to an AP count. At least 1,356 died as a result of hostile action. The figures include five military civilians.
Copyright 2018 The Associated Press. All rights reserved. This material may not be published, broadcast, rewritten or redistributed. We strive to uphold our values for every story published.