There have been times the past few months when Vania Bruner parked her van a short distance away and sat and looked at the house being built in the 1800 block of Haskell Avenue.
Early this fall Bruner, her husband, Gail, and their two young sons will move into that house. Then, no longer will she have to sit in her wheelchair and wash dishes unable to see the bottom of the sink. No longer will she struggle to turn on light switches she can't reach or open doors with knobs difficult to grasp.
"We haven't been putting in any luxuries," Bruner said during a recent visit to the house. "To us just getting in the doors or getting in the shower will be easier."
Bruner suffers from the physically debilitating Charcot-Marie-Tooth, or CMT, disease, and so do her children, Luke, 6, and Logan, 4. It is a neurological disorder that affects the sensory and motor nerves and which leads to muscle weakness and atrophy. The legs, feet and hands are especially affected.
In addition, Gail Bruner has developmental disabilities and thus is limited in what jobs he can handle. He has a good job, though, his wife said, working in environmental services at Lawrence Memorial Hospital.
Housing program help
Their new house is being built through Tenants to Homeowners Inc., a nonprofit Community Housing Development Organization that helps tenants become homeowners through a variety of education, construction and creative financing programs. The organization builds new homes or rehabilitates old ones by administering the city of Lawrence's first-time low-income homebuyer program. It also acquires affordable property for its Community Land Trust Program for new houses.
"There is no way we could have done this without this organization behind us," Vania Bruner said.
Since they were married 11 years ago, Vania and Gail have lived in a mobile home on Gail's parents' farm near Rantoul, a small community southeast of Ottawa. That is a long way from Lawrence for Gail's daily drive to work and for Vania and her children to travel for physical therapy here.
Though the mobile home has outside lifts at the doorway for wheelchairs, it lacks a roll-in shower or garage where Gail's car and the Vania's handicap-accessible van can be parked. It doesn't have a handicap-accessible bathtub. It doesn't have low countertops or cabinets that can be easily reached. Nor does it have special door knobs and toggle light switches.
All of those things will be available in their new house.
'It will be nice'
The new 1,800-square foot, three-bedroom house is bigger than TTH normally builds, but the extra space was needed to accommodate the simultaneous use of three wheelchairs by Vania and the children. The house also has a roll-in shower and doorway thresholds that are flat.
"It will be nice," Vania said. "The only thing will be that they (children) will have to get used to not being near their grandparents and it was kind of neat for them to be able to live out in the country."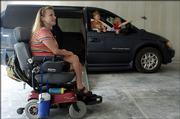 TTH entered the Bruners in the Community Land Trust Program, which makes them partners in the home ownership. The Bruners purchase the house but lease the land from the trust. With land costs removed, the homeowners can pay a more affordable price. A long-term land lease gives the homeowner exclusive rights to the land for 99 years. In exchange for the subsidy, the owners agree to limit their resale price and ensure that the home remains affordable for the next buyer should they decide to sell and move.
Typical houses built through the program range from $100,000 to $125,000, said Rebecca Buford, TTH executive director. In the Bruners' case, Vania has had extensive experience in seeking out grant funds from a variety of sources to help pay for her family's special needs. By doing that she has been able to come up with $30,000 to help pay for the house. It is a process she learned so her family can afford daily living expenses as well as paying for wheelchairs, braces, walkers and the van.
"We don't have credit cards and we don't buy big TVs," Vania said. "I feel we've kept ourselves out of financial problems."
Buford credited Vania Bruner with knowing what the family's special needs were when the house building began.
"These are things we don't normally deal with but she knew exactly what they needed," Buford said. "She is very organized."
How to help
The Bruners still could use help obtaining appliances such as a refrigerator, stove range hood with light, patio cover, yard sod, lawn service and landscaping, assistance in hooking up a computer, which Vania Bruner uses for finding and obtaining grants, kick plates for doors, automatic or wooden blinds, fencing and an automatic slide gate.
For more information, or to inquire about making monetary or other donations or volunteering labor for certain projects, call 842-5494.
The effort to keep costs down continues for the Bruners. TTH accepts monetary or volunteer labor donations for its projects, Buford said. The Bruners still need assistance in obtaining some appliances, kick plates for all doors, remote control or wood blinds for windows, sod for the yard, a patio cover and lawn service.
CMT disease is hereditary. Vania Bruner's father also had the disease, she said, but the family has not been able to trace the disease to any other ancestors. Vania also knew that there was a good chance that if she had children, at least one of them might also inherit it. She said she knows some people are critical of her for having children.
"This what I wanted to be," she said of being a mother. "I really didn't think the children would get it, but I guess God felt like we could handle it."
Copyright 2017 The Lawrence Journal-World. All rights reserved. This material may not be published, broadcast, rewritten or redistributed. We strive to uphold our values for every story published.