When Mary Lynn Stuart stands along the banks of the Wakarusa River at a site that was once known as Blue Jacket Crossing, it is almost like stepping through a portal to the past.
"If I was alone, I could just hear and see what took place here," she said. "It wouldn't have been glamorous, but it was an adventure. People worked really, really hard to do things in a different way than we all know."
Earlier in the spring, Stuart and other members of the Lawrence Preservation Alliance photographed and videotaped what little evidence still exists that shows where thousands of settlers crossed the Wakarusa on their way along the Oregon Trail.
The most visible evidence at what were three locations called Blue Jacket Crossing are the wagon swales. The swales are deep depressions in the ground that lead through woods and underbrush up to the edge of the river.
"The constant going over and over the ground by the wagons makes the form of a swale," Stuart said. "Once it is established, it keeps working its way down. It also was what the travelers were looking for in finding a crossing."
The three crossing sites are on private properties southeast of Lawrence near Douglas County Road 1057 or within a few miles of there.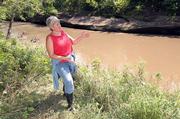 The LPA fears that with the rapid growth and development - not only in Lawrence but also in Eudora, Baldwin and Lecompton - Blue Jacket Crossing and other Douglas County historical sites will eventually be destroyed. Members want a good record of what once existed and maybe, with additional awareness, the sites will be saved.
"When new people come to Lawrence, they don't know about this," Stuart said during a recent visit to Blue Jacket. "To them, when they read about preservation in Douglas County, it means nothing to them. Lawrence isn't an island of history. This is a very historic county."
LPA member Karl Gridley agreed. He said the alliance isn't taking a stand against growth, it is "trying to bring awareness" to the existence of little known historical sites.
Crossings at scenic locales
Blue Jacket Crossing was owned in the 1850s by George Blue Jacket, who was part Shawnee Indian. The crossings are near rocky sandstone bluffs, some of which are 30 feet or more high. Travelers often scratched their initials and dates into the bluffs as they passed, and some of those initials can still be seen.
One such crossing also was a popular picnic spot in the early 1900s, Gridley said.
"People were carving their initials into the bluffs well into the 1900s," he said.
Near the bluffs of another Blue Jacket site, a small tombstone can be found marking the grave of a 1-year-old girl named Carolita Burhams who died in July 1868.
"The mortality rate was very high," Stuart said. "These were strong people."
Once at the river's edge, the wagons either crossed the hard sandstone river floor or used a ferry operated by Blue Jacket. The travelers also might have covered the bottom of their wagons with tar and floated down the river to a more ideal crossing site, Stuart said. Trees also might have been cut and fastened to the wagons to help them float and the wheels would have been removed.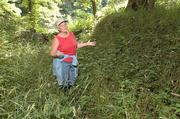 At a third site, located near the confluence of the Little Wakarusa section of the river and Spring Creek, the town of Sebastian once stood. It consisted of only a blacksmith shop, a store and one or two buildings that served as hotels of sorts, where settlers could rest and spend the night.
"They were typically just great big rooms, kind of like a crash pad," Stuart said of the hotels. "Even the sophisticated settlers came and lined up like cordwood up and down the floor with their blankets and buffalo rugs. They were interested in rest, not decor."
Remnants of history
A hayfield exists where Sebastian once stood. When the ground is mowed and the vegetation has died in the fall, remnants of building foundations can sometimes be found, Stuart said.
This time of year, near the site, a small layer of hard sandstone imbedded in the ground at a break in the grass shows the fossilized ruts of numerous wagon wheels.
When Gridley was in high school, he often went canoeing on the Wakarusa, sometimes making it an all day trip from where Clinton Lake is now to Eudora. He said he thinks one of the crossings sites would be a good site for a park some day.
"This is a beautiful spot," Gridley said, as he stood surrounded by timber across the river from one of the rocky bluff areas.
Stuart also grew up along the river.
"I used to go with my dad along the river to hunt mushrooms," she said. "I used to walk every inch of these banks."
Copyright 2018 The Lawrence Journal-World. All rights reserved. This material may not be published, broadcast, rewritten or redistributed. We strive to uphold our values for every story published.