Charlotte, N.C. — With their offense in a funk, the Charlotte Sting turned up the defense to snap a three-game losing streak.
The Sting, last in the WNBA in scoring, converted 20 Minnesota turnovers into 29 points in a 66-58 victory over the Lynx on Thursday night.
"Our strength is in our defense," Charlotte coach Trudi Lacey said. "That's how we have to beat people, with our team defense and our team offense. They're committed to that."
Allison Feaster scored 19 points, including five three-pointers, to lead Charlotte. Tangela Smith had 15 points, and Tammy Sutton-Brown added 13.
The Sting set a season high in steals with 14 while winning for just the third time.
"We did a tremendous defensive job on a very talented Minnesota team," Feaster said.
Katie Smith scored 12 for the Lynx and needs 11 points to become the first woman to score 5,000 points in her professional career in the United States. She scored 1,431 points during two-plus seasons in the ABL and has 3,558 with Minnesota.
Vanessa Hayden led Minnesota with 13 points and 10 rebounds, while reserve Tamika Williams added 10 points.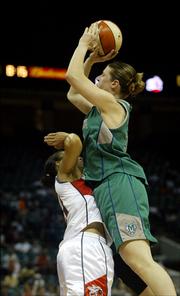 Charlotte took control in the second half by forcing five consecutive Lynx turnovers during a 10-0 run to take a 53-37 lead with 13 minutes remaining.
Liberty 89, Sun 79
New York - Shameka Christon scored eight straight points - including a go-ahead three with 1:47 remaining - and the Liberty used a closing surge of 26-9 to beat Connecticut. Christon finished with 14 points, Ann Wauters had a career-high 23 points and eight rebounds, and Becky Hammon added 20 points and eight assists for the Liberty (7-7).
Shock 76, Mystics 62
Washington - Cheryl Ford matched her season high with 18 rebounds and scored 14 points for Detroit. Elaine Powell added 12 points and 11 rebounds for the Shock (7-7), who took control with a 10-0 run late in the second half and ended a two-game losing streak.
Comets 65, Fever 63
Indianapolis - Janeth Arcain scored the winning basket with 2.7 seconds remaining, giving Houston its sixth straight victory. Arcain, who finished with 16 points, scored both of the Comets' baskets in the final 36 seconds. Both came on assists from Sheryl Swoopes. Swoopes scored all 14 of her points in the second half for Houston (10-5).
Copyright 2018 The Associated Press. All rights reserved. This material may not be published, broadcast, rewritten or redistributed. We strive to uphold our values for every story published.