One of the biggest industrial buildings in town is operating under new ownership this week, and it's Steve Chellgren's responsibility to make sure the place shows as a worthwhile investment.
The former E and E Display Group building - all 323,000 square feet of it at 910 E. 29th St. - is being cleaned and scrubbed down in preparation for a host of upgrades designed to make the building attractive for businesses in need of manufacturing, warehouse or other functional space.
"I see excellent warehouse space here," said Chellgren, owner of Linwood-based Construction & Management Co. LLC, hired to clean the building out. "This is really perfect."
Such assessments follow the hopes of Big Industrial LLC, a Prairie Village-based group of investors that bought the building and its nearly 13-acre site last week.
The building has been vacant for nearly a year, after E and E shut down and put the place up for sale. The closing left 105 employees out of work, after dozens of previous layoffs; the business had as many as 300 employees in 1998.
The site had been listed for $2.95 million.
Officials on both sides of the transaction declined to disclose the sale price Thursday, but they were quick to tout the deal as another signal that the industrial market in Lawrence was showing signs of revival after a couple of difficult years.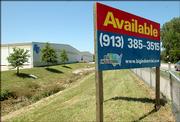 The E and E sale came on the heels of Big Industrial's sale of the former Davol Inc. building several blocks to the north - a 215,000-square-foot structure snapped up by an investment group that includes the owners of Huxtable and Associates, Joel Fritzel Construction and Allen Press.
But Todd Mendon, managing director for Big Industrial, doesn't foresee selling the former E and E building. His firm prefers to acquire large, vacant industrial buildings and then modify them for use by several smaller tenants.
The former E and E building - built in five stages in the 1970s, '80s and '90s - offers a variety of tall ceiling heights, plentiful and expandable dock options and proximity to Kansas Highway 10.
"We've got a number of current prospects with which we're speaking, both local and outside the area," Mendon said. "There's at least a couple who would occupy the entire building."
The building accounts for nearly 4 percent of the 8.31 million square feet of industrial space in Lawrence, said Marilyn Bittenbender, a broker for Grubb & Ellis/The Winbury Group, who tracks the industrial market.
The former E and E and Davol buildings accounted for the majority of the 775,000 square feet of vacant space available at the end of last year, or 9.3 percent of the market.
With much of the former Davol building targeted for occupancy by its new owners, the E and E building looks to be high on the list for potential tenants looking for room to grow or relocate, Bittenbender said.
"This is a very positive indicator," said Bittenbender, who served as listing agent on the E and E building for its previous owners, White Property Management. "Hopefully, there will be other businesses that will need the same thing."
The former E and E building likely won't be available for lease for another month or two, Mendon said. Chellgren's cleanup crews are busy clearing out junk cars from an alley and filling Dumpsters with plywood and other trash.
Still to come: Repairing dock doors, possibly installing new ones, painting the exterior, repairing the roof and otherwise spiffing up the place.
Big Industrial - which also owns millions of square feet of industrial space in Topeka, Kansas City, Kan., several communities in Missouri and two in Arizona - wants the building to shine.
"We've got a lot of work to do," Chellgren said.
Copyright 2018 The Lawrence Journal-World. All rights reserved. This material may not be published, broadcast, rewritten or redistributed. We strive to uphold our values for every story published.