Kansas City, Mo. — All signs point toward a five-hit game for Angel Berroa tonight.
Revitalized since being dropped lower in the lineup, Berroa had one hit Monday, then two Tuesday and three Wednesday. Thursday night he had four hits with two RBIs and two runs scored, leading Kansas City past Minnesota, 8-5.
"I just go to home plate and swing," Berroa said. "I don't want to think about getting five hits."
Berroa is 11-for-18 and has hit in five straight games since manager Buddy Bell lowered the slumping shortstop from first and second in the batting order to sixth and seventh.
"From the sixth spot, I can see more pitches from the bench," he said. "When those five guys go to the plate, I just watch how they pitch those guys. I was struggling a little bit. Now I'm working hard."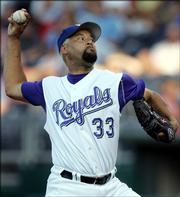 Berroa was 4-for-5 and had an RBI single in the seventh to reach base for the eighth straight plate appearance, a streak that included seven singles and a hit-by-pitch. He flied out in the eighth.
Dropping Berroa in the order has proved the most effective change Bell has made since he began settling in as manager May 31.
"I probably should have done it sooner," Bell said. "Sometimes a change of scenery does a guy good, whether it's changing in the lineup, getting traded or whatever. Sometimes change is good."
Jose Lima went 62â3 innings and won for the second time in 18 starts. He limited the Twins to three runs on eight hits to help the Royals win three in a row for the first time since June 11-16.
There had been speculation, as he struggled start after start, that his career could be coming to an end.
"I'm 32 years old. I think when you've got a fastball 90 mph, 91, you still got something left in your arm," Lima said. "I'm not done. I always find a way to win ballgames."
Tony Graffanino had three RBIs for the Royals, who are 16-18 under Bell.
"I'm happy for Berroa," said Lima, who had been 0-3 lifetime against the Twins. "He was struggling. It feels good to see him playing so well."
Kyle Lohse (7-7) gave up nine hits and four runs in five innings. The right-hander woke up Wednesday morning with a sore neck and his availability to start was not certain until just before game time.
"He didn't get hit hard by any means, but we missed some plays behind him," Twins manager Ron Gardenhire said. "We could have lessened the damage on Kyle. He went out there with a little bit of a sore neck and all those things. He battled for five innings. It wasn't his best performance of the year but he battled."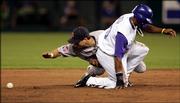 Nick Punto hit his second home run with one out in the first and finished with four hits for the Twins, who lost their third straight. Joe Mauer had three hits and three RBIs, including a two-run double in the ninth.
After Berroa's RBI single in the seventh, John Buck, on his 25th birthday, hit a two-run single and Graffanino drew a bases-loaded walk off Jesse Crain to make it 8-3.
Berroa and Emil Brown had RBI singles in the second, and the Royals took a 4-1 lead in the fourth on Graffanino's two-run single off Lohse. Mauer and Torii Hunter had RBI singles in the Minnesota fifth, making it 4-3.
The Royals' 12 hits were all singles.
"An ugly baseball game by us," Gardenhire said. "We pretty much stunk out there. We didn't do too much right. They were aggressive. We threw the ball all over the field. Missed plays. We didn't live up to our part of the game and it was pretty disappointing."
Royals vs. Twins
When: 7:10 tonight Where: Kauffman Stadium Television: Royals Network (Sunflower Broadband Channel 6) Pitchers: Zack Greinke (1-10) vs. Brad Radke (5-8) K.C. record: 29-55 (281â2 back)
Notes:1B Mike Sweeney had some swelling on his left wrist after being struck on Wednesday night by Seattle pitcher Aaron Sele's pitch. Sweeney was out of the lineup but manager Buddy Bell said he would be available soon. ... The Royals activated LHP Jeremy Affeldt from the disabled list and optioned RHP Jonah Bayliss to Triple-A Omaha. ... RHP Matt Guerrier was standing by to start if Lohse's neck was too sore to let him go. ... The Twins are 7-2 against the Royals. ... Ruben Gotay fell down going around second after Berroa's RBI single in the seventh and should have been an easy out. But 2B Punto dropped the ball trying to tag him coming back to the bag.
Copyright 2018 The Associated Press. All rights reserved. This material may not be published, broadcast, rewritten or redistributed. We strive to uphold our values for every story published.