Nancy, France — Downpours, treacherous and slick roads, buffeting winds and a nasty crash in the final dash to the finish line. Not a Tour de France day Lance Armstrong will want to remember.
The six-time champion came through soaked but unscathed and kept his overall lead Thursday in the three-week race's sixth stage from Troyes to Nancy in eastern France.
"It wasn't pretty," said Armstrong, who was 32nd and finished alongside two teammates.
One of his main challengers, Alexandre Vinokourov of Kazakhstan, took 19 seconds off the Texan's lead by surging toward the end to place second. He still trails Armstrong by 62 seconds overall.
Lorenzo Bernucci, a 25-year-old Italian racing his first Tour, won the stage. He kissed his wedding ring as he crossed the line and dedicated his first victory to his wife.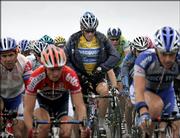 Armstrong, who plans to retire at the end of the Tour on July 24, is harboring his strength and not fighting for daily wins in this first week. He wants to be fresh for the Alps next week after the riders have enjoyed a rest day Monday.
Already, fatigue is beginning to show. There were four hills to negotiate during Thursday's 123.7-mile ride. Some racers - not including Armstrong or his main rivals - struggled up the final climb, even though it was a molehill compared to the high mountain passes that must be scaled in the Alps and later in the Pyrenees.
"The riders are tired. We had a relatively insignificant climb near the end of the stage, but we heard on the race radio that quite a few guys were dropped," Armstrong said. "That's not normal for this race."
He blamed the rigorous conditions and the fast pace set by leading squads.
"When you add in the tail winds, the cross winds, the rain, the weather and the high tempo the teams are riding on the front that adds up to some tired guys," he said.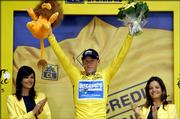 The Tour veers into Germany on Friday, and a minute of silence will be observed at the start to mourn victims of the terror attacks in London. The 142-mile trek from Luneville to Karlsruhe has a couple of hill climbs in the first third before flattening. The finish most likely will feature a bunched sprint.
Again, Armstrong will be looking to stay safe and avoid the misfortune that befell French racer Christophe Mengin on the tight final right-hand corner at the end of Thursday's route.
Mengin was leading when he slipped and crashed into a safety barrier. The line was almost within sight, less than a half mile away on a crowd-lined finishing straightaway.
Bernucci and Vinokourov stayed upright and dashed through to finish first and second, respectively. But at least four other racers plowed into the prostrate Mengin and went down, too, creating a jam of bikes and riders that slowed Armstrong.
"It was a hairy finish with a lot of turns," Armstrong said. "When you're stopped behind a crash like that you have to just pick your way through and try and get to the finish."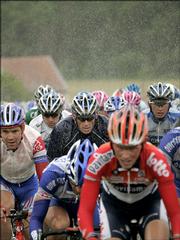 "There were bikes everywhere. I rode over a back wheel," said Australian sprinter Robbie McEwen, who won Wednesday's stage and will be looking for a second victory on Friday.
The hapless Mengin placed 128th with a puffed bruised left eye - a sorry end to a remarkable ride. He had ridden at the front for much of Thursday's stage, breaking away from the main chasing pack early in the day.
Four other racers joined him and the small group built a lead of more than eight minutes at one point. Mengin then took the lead alone nearing Nancy, pulling ahead on the final climb. But he was tiring and about to be caught when he fell.
For his efforts, he was rewarded with the prize given each day to the most courageous or aggressive rider. The prize is worth more than $2,400.
"I look more like a boxer," the battered Mengin said.
But Mengin's misfortune was Bernucci's blessing.
"I am truly very happy," the stage winner said. "I wasn't expecting it. When I got to the end, I saw there was no one there."
AP Sports Writer Jerome Pugmire contributed to this report from Nancy, France.
Copyright 2018 The Associated Press. All rights reserved. This material may not be published, broadcast, rewritten or redistributed. We strive to uphold our values for every story published.