The Rev. Peter Luckey is big on youth mission trips.
In the past three years, the senior youth group at Plymouth Congregational Church, 925 Vt., has traveled to undertake work projects in West Virginia; El Paso, Texas, and just across the border in Ciudad Juarez, Mexico; and, May 28 through June 5, in Biloxi, Miss.
"I think the value (of mission trips) is huge. Young people who are in high school are at a time in their life when they're seeing the world for the first time, and experiences that they have can leave lasting impressions on them," Luckey says.
"We want to expose our young people to the issues of injustice and poverty in the world, such as the wealth of the United States and the poverty of Mexico. I want them to see it and have a hands-on, direct experience of it."
Luckey's enthusiasm for mission trips has trickled down to members of Plymouth's youth group, who have eagerly signed up to participate on such trips. Some have gone on more than one.
Cara Powers, a 17-year-old senior at Free State High School, explains why she wanted to join the recent trip to Biloxi, where students repaired the homes of people who live below the poverty line, as well as serving meals at a food service for the homeless.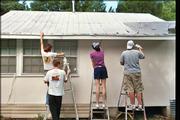 "It's a nice feeling to know that you did something good for someone. I just wanted to go because I wanted to feel like I was doing something positive to make the world a better place," says Cara, who also went on the previous mission trips to West Virginia and El Paso/Ciudad Juarez.
She was among a group of 15 students and five adult leaders from Plymouth who completed a work project organized by the Back Bay Mission in Biloxi.
The mission is a community ministry of the United Church of
Christ, the denomination to which Plymouth belongs. It assists thousands of people in the Mississippi Gulf Coast area, providing food, clothing, prescriptions and other basic needs.
Taste of Southern culture
If Luckey's goal was to open the eyes of the young people from his church, it appears he succeeded.
Most of them had never been in the South. Some hadn't witnessed the kind of poverty they were exposed to along the way.
"I'd never been on a work trip or mission trip before, and I wanted to see what the experience was like and to help out some people in need," says Ryan Waggoner, 17, a senior at Free State.
"It really made me realize how great my life is back here, and not everybody has as good a life as I do. I'm definitely excited about going again next year."
During their week in Biloxi, youth group members renovated and repaired one home; scraped, primed and repainted another one; and worked at Loaves and Fishes, a food service for homeless people.
One of the homes they worked on had not even had electricity until about a year ago, Luckey says.
Learn more
To learn more about Back Bay Mission - the community ministry recently served by the senior youth group of Plymouth Congregational Church, 925 Vt. - visit www.fcchurch.com or call (228) 432-0301.
The situation he saw in Mississippi strikes him as ironic.
"Biloxi has all these huge casinos, these huge towers, almost sort of like monuments to capitalism and kind of the obsession with money, and right at the foot of them are these shacks that people are living in," Luckey says.
Stunned by flag
During the trip, the Plymouth group got a taste of Southern culture.
They visited Beauvoir, the home and presidential library of Jefferson Davis, leader of the Confederate States of America.
They took a ride aboard a shrimp boat. (Shrimp fishing is an important part of Mississippi's coastal economy.)
And they experienced a revival meeting at a small, black Baptist church, where they sang with the choir and heard an evangelist preach a fire-and-brimstone message.
But they were taken aback by one prominent aspect of life in the South, or at least in Mississippi.
The Confederate flag - the symbol of the Old South.
It was an odd sight to young people from a Kansas church with strong, abolitionist roots in the pre-Civil War era.
"All the Confederate memorabilia was kind of a shock. Every souvenir shop we went into had Confederate flags, necklaces, even swimsuits," says Jane Turner, 17, a senior at Lawrence High School.
"The first time we saw one, we were like, 'Oh my gosh.' It was crazy."
Copyright 2018 The Lawrence Journal-World. All rights reserved. This material may not be published, broadcast, rewritten or redistributed. We strive to uphold our values for every story published.