Detroit — General Motors Corp.'s sales rose 41 percent in June to their highest monthly total in nearly 19 years thanks to a heavily promoted discount that allowed customers to buy cars and trucks at the employee rate, new sales figures show.
Asian brands also continued their surge last month, according to results released Friday. Toyota Motor Corp., Honda Motor Co. and Nissan Motor Co. all posted their best June sales periods ever in the United States, while South Korea's Hyundai Motor Co. said June was its best single month on record.
DaimlerChrysler AG's Chrysler Group said sales rose 1.1 percent in June, the company's seventh consecutive quarter of year-over-year increases. But Ford Motor Co.'s domestic business fell again.
GM, the world's biggest automaker, said June amounted to its best month since September 1986. Paul Ballew, GM's executive director of global market and industry analysis, said the company would announce soon whether it planned to continue the all-encompassing discount, which began June 1 and is scheduled to end Tuesday.
The boom was driven by record truck sales, which increased 69 percent. The Chevrolet Silverado full-size pickup led the industry as its sales more than doubled, GM said.
"We see this as an indication that America's desire for trucks and SUVs is still a strong force in the marketplace," GM vice president of marketing Mark LaNeve said.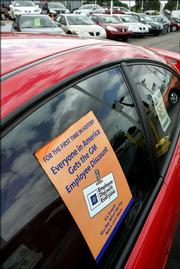 Ballew said GM attracted roughly 150,000 new customers in June. They typically bought vehicles for an average of $400 to $500 less than they paid in May, he said.
GM sales for the first six months of the year rose 2.7 percent. Its truck sales rose 6.3 percent; car sales fell 2.3 percent.
Ford, which has declined to match GM's offer, said its domestic sales fell 2.5 percent in June from a year ago and dropped 4.3 percent for the first six months of the year despite hits like the sporty Mustang and growing sales of its crossover vehicles.
The second biggest U.S. automaker said June sales of the Ford, Lincoln and Mercury brand cars rose 7.7 percent, helped by the Mustang and Ford Five Hundred sedan, but truck sales fell 7.3 percent.
Ford's top sales analyst George Pipas said Ford considered matching GM at the beginning of June but decided to stick with its sales strategy. Ford began offering $1,000 last month to employees who persuaded friends and relatives to buy a Ford. That deal runs through Sept. 30.
Pipas acknowledged GM's program as a huge success but said attracting buyers after the promotion would be more difficult.
Copyright 2018 The Associated Press. All rights reserved. This material may not be published, broadcast, rewritten or redistributed. We strive to uphold our values for every story published.