Several Douglas County communities will be hosting fireworks displays in honor of the Fourth of July.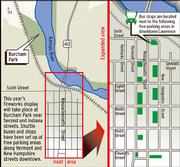 Fireworks aficionados who can't wait for Monday's displays can head out to Lake Perry tonight, where a half-hour show will begin at the marina beach at sundown. The event will feature music from the band Final Drive from 7 to 11 p.m.
Several municipalities will host large displays on Monday. Baldwin's display starts at about 9 p.m. and will last from an hour to an hour and a half.
The event will also feature games at the Baldwin High School sports complex, including tug-of-war and a sack race.
The games begin at 6 p.m.
In Eudora, the fireworks display will begin at dusk. Viewers should gather in the parking lot of Eudora Middle School, where entertainment will begin at 7 p.m.
The Eudora event will feature a disc jockey, and the fireworks display should last for about an hour.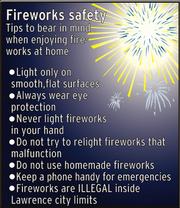 The Lawrence display will start at about 9:45 p.m. Organizers said the best site to view the display would be Burcham Park, 200 Ind., though the Kansas River bridge and levee would provide good views as well.
Festivities at Burcham Park will begin at 6 p.m., including live music from The Prairie Acre Band and the Ready Brothers Band.
The City of Lawrence has a ban on residents firing almost all fireworks within the city limits.
Snappers, snakes, sparklers, party poppers, toy caps and toy smoke devices are exceptions to the ban.
Copyright 2018 The Lawrence Journal-World. All rights reserved. This material may not be published, broadcast, rewritten or redistributed. We strive to uphold our values for every story published.