More food, less drink.
New sales tax numbers suggest the landscape of Lawrence's restaurant and bar industry has shifted from alcohol to food sales since the city's smoking ban began one year ago today.
"I think what this shows is that we've made our community healthier and we haven't hurt the economy of Lawrence one bit," said Judy Keller, executive director of the American Lung Association of Kansas and a chief supporter of the city ordinance, which bans indoor smoking at virtually all Lawrence workplaces.
But to some in the city's hospitality industry, the numbers are evidence of a broken promise.
Phil Bradley, executive director of the Lawrence-based Kansas Licensed Beverage Assn., said drink tax numbers are down 1.7 percent from July 2004 to March 2005, which are the most recent numbers available.
"The speakers in favor of this extreme ban told city commissioners that they virtually could guarantee that this ban would not affect these businesses," Bradley said. "These numbers clearly show that it did."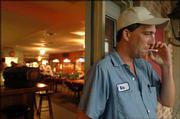 Debate continues
Ban supporters, though, aren't ready to concede that point.
They said that there are other factors that could have produced the drink tax decline. The biggest may have been the Kansas University basketball team's loss to Bucknell University in the first round of the NCAA Tournament.
Without the drop in March, Dr. Steve Bruner, a proponent of the smoking ban, said drink tax numbers were down only 0.4 percent for the year.
"It looks like to me that one basketball game had four times more of an effect in one month than the smoking ban did in eight months," Bruner said.
Ban supporters said the numbers also showed that some businesses likely had the smoking ban to thank for improved sales.
General sales tax numbers for the restaurant sector improved by 11.6 percent during the same period, or about three times faster than sales tax collections for the overall Lawrence economy.
Jeff Webb, owner of Jefferson's, 743 Mass., estimated that sales were up 5 percent to 10 percent following implementation of the ban.
"We're getting a lot more families with children," Webb said. "For every one person who complains about it to me, I have nine who say that they love it."
Kansas cities with smoking bans
¢ Salina: April 2002 ban that prohibits smoking in restaurants. ¢ Overland Park: May 2003 ban that prohibits smoking in fast-food restaurants. ¢ Lyons: July 2003 ban that prohibits smoking in restaurants. ¢ Lawrence: July 2004 ban that prohibits smoking in virtually all workplaces. ¢ Hutchinson: July 2004 ban that prohibits smoking in restaurants. ¢ Spring Hill: December 2004 ordinance that requires certain signs regarding smoking. ¢ Concordia: May ban that prohibits smoking in all workplaces except bars. ¢ Abilene: June ban that prohibits smoking in all workplaces except bars. Source: American Lung Association of Kansas
Relief needed?
Count Sarah Long, Lawrence, among those who love it. Long was downtown Thursday with her son Noah, 1.
"I love being able to go out with him and know that I can go anywhere and not worry about the smoke," Long said.
But several bar owners said they needed some sort of relief.
"It has been terrible," Tom Conroy, owner of Conroy's Pub, 3115 W. Sixth St., said of the last year.
Conroy said he had laid off about a dozen part-time employees in the wake of double-digit sales declines.
Reducing the amount of second-hand smoke that bartenders and wait staff have to endure was a major reason for the ban.
Jay Jamison, a bartender at the Shenago Lounge, 2907 W. Sixth, said he was still around plenty of smoke in his life because he is a smoker and that he's been receiving about 20 percent fewer tips since the ban began.
"We just don't have as many people in here," Jamison said.
But Jamison said the ban had led him to reduce the number of cigarettes he smokes by about three packs per week.
"So, financially it has been nice from that standpoint," Jamison said.
Copyright 2018 The Lawrence Journal-World. All rights reserved. This material may not be published, broadcast, rewritten or redistributed. We strive to uphold our values for every story published.