HAGERSTOWN, MD. — Former state prison inmate Richard Murray returned recently to the Maryland Correctional Training Center with a message sanctioned by Gov. Robert Ehrlich's administration: Have faith.
The 26-year-old reformed thief and recovering heroin addict is now an evangelical Christian minister. On a visit to the institution's modest chapel, he preached the benefits of a Christian life-skills program called Right of Passage that he said helped him land a job after his release in 2003.
His success on the outside "came from finding myself on my knees in prayer, back there in my cell when everyone else was doing everything else," Murray told about 200 inmates at a weekly Bible-study class.
Right of Passage, developed within the prison's walls, is among several faith-based elements of Project RESTART, a multifaceted program that the Department of Public Safety and Correctional Services is implementing at the training center and the Maryland Correctional Institution for Women in Jessup. RESTART, short for Re-entry, Enforcement and Services Targeting Addiction, Rehabilitation and Treatment, aims to both keep the peace in prison and help convicts become good citizens once they're released.
Firm foundation
While civil libertarians say such faith-based programs may give preferential treatment to religious inmates, RESTART is to be expanded to all 27 institutions in Maryland as funding permits. State prison officials say a strong religious faith can lay a firm foundation for an inmate's successful return to society.
Frank C. Sizer Jr., the state corrections commissioner, said the faith-based programs are part of a "holistic" approach to rehabilitation involving all the prison's resources, including drug treatment, secular counseling and prison chaplains.
"I think the chaplains contribute greatly to the safety of the institutions just by their contact and counseling of inmates," Sizer said. "We're trying to revitalize that role."
Other religious aspects of RESTART include a volunteer-driven, Christian self-discovery program based on the best-selling book, "The Purpose-Driven Life," and two programs under development that officials say will be adapted for all faiths. One is called Thinking for Change, aimed at making inmates consider the moral consequences of their actions. The other, Project Exodus, will seek volunteers from area churches to mentor inmates through their prerelease and adjustment to society.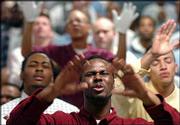 Finding stability
Sizer said Project Exodus, along with increased cooperation between the state prison and parole agencies, will help former inmates find jobs and stability on the outside. "He can be as religious as anyone, but if he doesn't have that support system out there, he will end up in jail," Sizer said.
Maryland isn't alone in seeking a spiritual route to prison reform. Faith-based prison programs, many run by evangelical Christian volunteers, have been promoted in California, Florida, Iowa and Ohio as having a calming, constructive influence on inmates.
But there is no clear evidence that religious programs are more effective than secular ones in increasing prison safety or reducing recidivism, according to the Lanham-based American Correctional Assn., the largest association of corrections professionals.
"Having an inmate involved in any sort of program tends to make for a happier inmate, reduce idleness and make the operation of a facility safer. But as for going into specifics -- faith-based vs. non-faith-based, any discernible difference -- I'm not sure anybody can answer that question," said Joe Weedon, American Correctional Assn. spokesman.
Sixty-eight percent of offenders released from prisons in 15 states in 1994, the latest year for which statistics are available, were re-arrested for a felony or misdemeanor within three years, according to the federal Bureau of Justice Statistics.
'Bit of a fad'
Critics of faith-based prison reform -- including church-state separation advocates and civil libertarians -- say such programs may give preferential treatment to participants while subjecting other inmates to unwanted, taxpayer-funded religious messages.
"The faith-based programs are a bit of fad in corrections right now. I think some of it is based on junk science, phony assumptions and simply pie-in-the-sky thinking," said Rob Boston, spokesman for Americans United for Separation of Church and State in Washington.
Project RESTART also has been criticized by the state prison workers' union, the American Federation of State, County and Municipal Employees, which accuses the Ehrlich administration of emphasizing rehabilitation at the expense of safety. The state is adding counselors and case managers while the number of correctional officers has declined at some institutions, including the Maryland Correctional Training Center, the union says.
State prison officials say safety is their priority. They also say that the religious programs won't violate inmates' rights because they are voluntary -- prisoners don't have to have religious counseling if they don't want it.
Murray, the prisoner-turned-preacher, who also sells herbal supplements out of his home, "is kind of a living proof that it works," said Mark Vernarelli, spokesman for the Department of Public Safety and Correctional Services.
In Murray's sermon at MCTC, during a ceremony for Right of Passage graduates, he told inmates not to take the program lightly.
"I think a lot of times, guys come through prison and they try to get every program they can to prepare a resume when they go before the judge: 'See, I went through this program and that program.' And it's like, 'Well, why are you still getting in trouble?"'
Copyright 2018 The Associated Press. All rights reserved. This material may not be published, broadcast, rewritten or redistributed. We strive to uphold our values for every story published.