As George W. Bush began his second term, his words and actions seemed to reinforce the image of a president whose straightforward piety helped him win re-election and earned him lockstep loyalty from white evangelicals.
He attended worship services before and after his inauguration. The ceremony itself featured both a benediction in Jesus' name and the president's own God-spangled address. Bush said the nation, from its founding, has proclaimed the rights of every person on earth "because they bear the image of the Maker of Heaven and earth." He added that America's character is sustained by the varied faiths of its people.
Though many doubtless cheered the president's strength-through-faith message, days before the inauguration, some prominent evangelicals showed the movement's political profile is more complex than it often appears.
Seventy-six leaders of evangelical colleges, seminaries, denominations and ministries petitioned Bush about health insurance and the "unacceptably high" rates of U.S. hunger and poverty.
Group's lament
The group further lamented that the United States "ranks absolutely last" among developed nations in "governmental assistance to overcome global poverty," echoing a United Nations official's controversial comment about "stingy" nations in the wealthy West.
Things may become more complicated in March as a National Association of Evangelicals conference discusses a lengthy political platform, titled "For the Health of the Nation," that the organization's board endorsed unanimously last October.
The text opens by asserting that evangelicals "make up fully one-quarter of all voters in the most powerful nation in history."
It then goes on to challenge both political parties, says Rich Cizik, a representative for National Association of Evangelicals in Washington, D.C. "It has a broad agenda of concerns, not just abortion and gay marriage," he says.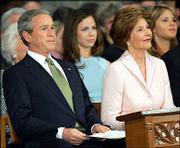 As the platform puts it: "The Bible makes it clear that God cares a great deal about the well-being of marriage, the family, the sanctity of human life, justice for the poor, care for creation, peace, freedom and racial justice."
'Diverse movement'
Richard Mouw, president of Fuller Theological Seminary, says the document provides a valuable reminder that "evangelicalism is a very diverse movement." His point is further reinforced by a new anthology, "Toward An Evangelical Public Policy," that addresses issues the National Association of Evangelicals also raises.
Though almost all evangelicals are conservative on family and moral issues, Mouw says, a significant segment questions Bush's foreign and economic policies. To accommodate a pacifist minority, the National Association of Evangelicals platform says evangelicals differ on whether military force is justified to defend the nation or help people elsewhere.
The association, which lacks major political clout, claims a constituency of many millions of American Christians in 45,000 local congregations and numerous independent ministries.
University of Akron political scientist John C.Green says the NAE represents evangelicalism's pragmatic center over against two other wings, the progressive evangelicals and the Christian right, which includes much of the Southern Baptist Convention, U.S. Protestantism's largest denomination.
Evangelicals of the left and center have long been obscured by the media coverage of outspoken figures on the right, such as Jerry Falwell and Pat Robertson. The right's other spokesmen include child psychologist James Dobson of Focus on the Family, Southern Baptist executive Richard Land and Tony Perkins of the Family Research Council.
The left's leaders include Jim Wallis of Sojourners magazine and Call to Renewal, an anti-poverty religious coalition. His new manifesto "God's Politics: Why the Right Gets it Wrong, and the Left Doesn't Get It" (HarperSanFrancisco) attacks not only conservatives but liberals and Democrats who oppose religious involvement in public life.
Wallis, a favorite evangelical for liberals because of his sharp criticisms of Bush policies, led a 90-minute session on religion at this month's retreat for Democratic U.S. senators.
Differing views
To Wallis, the NAE "used to be a political outpost of the religious right, or was perceived that way. In this new statement, it's no longer that." He thinks the religious right is fading as younger evangelicals move his way.
That's not the view of Michael Cromartie, who directs the program on evangelicals at the conservative Ethics and Public Policy Center. He says "the constituencies represented by conservative people are huge" while there's minimal evangelical support for Wallis' pacifism, which criticizes America's role in Iraq and accuses Israelis and Palestinians equally of "terrorism."
Surveys by Green and others underscore Cromartie's point. Though in 1976 evangelicals voted by only 52 percent for Republican Gerald Ford (and a bit less in Jimmy Carter's South), by 2000 they went 71 percent for Bush (74 percent in the South). Green will shortly issue exit poll results from 2004.
Despite the GOP's increasing support, Clive Calver, a British citizen who led World Relief, the NAE charity arm, says it's important that the words evangelical and Republican not be interchangeable.
"When we align with one political party we get taken for granted," he says. "It is more difficult to make criticisms when appropriate, and it fails to give us the opportunity to lobby for issues that are naturally attuned to the other party."
Copyright 2018 The Associated Press. All rights reserved. This material may not be published, broadcast, rewritten or redistributed. We strive to uphold our values for every story published.