San Diego — Even if you take all your friends to a sports bar on Super Bowl Sunday and even if you pay for every beer, you'll likely spend thousands less than you would have if you bought yourself a new ultrathin, high-definition television.
And you won't have to kick yourself as you watch the price of those TVs fall.
Even Doug Zenz, a Newport Beach, Calif., mortgage banker who dropped $5,400 last month on a 50-inch Sony plasma television, knows his new toy can only get cheaper.
"Most people cannot afford five or seven thousand dollars for a TV set," Zenz said. "It's like all new technology: The first people to jump in pay top dollar."
New factories and improved manufacturing techniques are expected to contribute to significant price declines this year. Exactly how much depends on whom you ask.
The price of liquid crystal display TVs fell between 30 percent and 50 percent last year -- with the larger screens dropping more -- a decline that will likely be repeated in 2005, said Douglas Woo, president of Westinghouse Digital Electronics LLC.
Westinghouse introduced a 27-inch liquid crystal display TV for $2,499 last January. It sells for $1,299 today.
A 37-inch liquid crystal display TV that cost $7,000 a year ago now sells for about $3,000, said Sean Wargo, director of industry analysis at the Consumer Electronics Assn., the Arlington Va., manufacturers trade group.
He expects prices for liquid-crystal display sets to drop about 40 percent this year.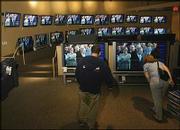 As the TVs shrink in price, they are growing in screen size. Sharp Corp., the world's biggest supplier of liquid crystal display TVs, said this month it would invest $1.45 billion to build a Japanese plant designed to produce panels 40 inches and larger by October 2006.
Sharp showed off a 65-inch liquid crystal display TV this month at the Consumer Electronics Show in Las Vegas (availability and price were not announced), while Samsung Electronics Co. unveiled a 57-inch model (available in June for $15,999) -- the length of a standard pool cue.
Liquid crystal displays, which also are used in notebook computers as well as, increasingly, desktop monitors, still cost far more per-inch than plasma television, the main rival flat-panel technology. Higher manufacturing costs are the reason.
But Michael Heiss, a consumer electronics consultant in Los Angeles, said liquid crystal display prices would keep falling after prices for plasmas tumbled last year.
Plasma TVs, which use a charged gas to illuminate pixels on the screen, are expected to cost an average of $2,485 this year, down from $4,649 in 2003, according to the Consumer Electronics Assn.
For some who can't wait for prices to drop on superthin TVs, high-definition, rear-projection televisions are gaining ground. Many run on Texas Instruments Inc.'s digital light processors -- which carry hundreds of thousands of tiny mirrors that flip up to 5,000 times a second.
Rear-projection sets built with digital light processors are about 15 to 20 inches thick -- much too bulky to hang on a wall -- but start around $2,500. Rich Templeton, Texas Instruments' chief executive officer, said this month that TI was working with manufacturers to drive down prices to $1,000.
Brent Morton, 39, and Keith Dodson, 38, are trying the wait-and-see approach. They are hoping to replace the 1989 television in their living room. The two were looking at 42-inch high-definition plasmas, which started at $4,000.
Morton said the emergence of other technologies -- such as digital light processors -- made him wonder if something newer and better might come along.
"To spend $4,000 on a television is just nuts," Dodson said.
"Give me one of these for $2,000 and I'll walk away with it," Morton said.
The two left the store having paid less than $50 for a DVD player.
They're sticking for now with that 1989 cathode-ray tube set -- the technology that's dominated the industry since the 1930s.
Copyright 2018 The Associated Press. All rights reserved. This material may not be published, broadcast, rewritten or redistributed. We strive to uphold our values for every story published.