What if?
That horrible question has been haunting Kathy Mitchell and others in Lawrence now for nearly two weeks.
"We all have regrets, but regrets won't bring her back," Mitchell said. "You can't turn people who need help away, (people) who are mentally ill. It's not an illness you can turn and ignore. It didn't have to happen. I am furious. I don't know who to blame."
The associate professor of pharmacology at Kansas University recognized the danger signs. She knew her 28-year-old daughter's history of mental illness and that she was suicidal that night. So she took Brianna Mitchell to Lawrence Memorial Hospital for help.
But because the hospital has no mental health unit, they were shown the door and told to return the next day when an ambulance would be available to transport Brianna to the state mental hospital in Osawatomie.
The next day was too late.
After returning home, despite her mother's watchful eye, Brianna drank enough Atropine to put herself into a coma. She died four days later.
Brianna was diagnosed at age 16 with a severe form of bipolar disorder. The downhill spiral of events that ended with her losing the battle started Jan. 9.
Kathy Mitchell realized her daughter was having a psychotic episode and called the emergency telephone number at Bert Nash Community Mental Health Center.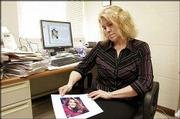 "They told me to watch her," Kathy Mitchell recalled. "I watched her all that night. Basically two nights in a row I didn't sleep."
Mitchell continued to make calls all the next day, to the family physician, to her daughter's therapist and caseworker, and to the state hospital in Osawatomie where Brianna had recently spent eight weeks undergoing treatment.
Finally, she took her daughter to the emergency room at LMH.
"She said she was psychotic, thinking of overdosing and didn't trust what she might do," Kathy Mitchell said.
After four hours of mental health screenings and evaluations, Brianna was voluntarily admitted to the state hospital in Osawatomie. But by then it was 10 o'clock on a night with inclement weather, and the company the hospital uses to transport patients determined the roads were too icy to make the trip. Osawatomie is about 60 miles southeast of Lawrence.
Previous attempts
Brianna was discharged by an emergency room doctor at LMH, despite having been hospitalized there three previous times for drug overdoses.
"She's had three prior serious (suicide) attempts," her mother said. "Twice she's been in intensive care for overdoses. That information should have been on her chart."
Still, Brianna was sent home with her mother, and Kathy Mitchell said they were given no alternatives.
"Five minutes after she told them she didn't trust what she might do, they asked her if she promised she'd be OK if she went home," Kathy Mitchell said.
So the mother of five did the only thing she knew to do. She watched her oldest daughter like a hawk, taking any medications Brianna could use to overdose out of the house.
But Brianna, her mother says, was a brilliant biochemist, a former researcher at Yale, who knew there was enough of the drug Atropine in some prescription drops she had to put her into a coma.
"I took a shower and went to wake her up," Kathy Mitchell said. "That's when I found her and called 911."
Mitchell performed CPR on her daughter. But despite her efforts and those of emergency workers, Brianna did not survive the drug-induced coma.
Others helped
Brianna's organs were donated to at least three other people.
"Organ donation is a miracle. She can live on and save lives," Kathy Mitchell said. "That's a comfort to me to know there are people living because of her."
Just days after her daughter's funeral, Kathy Mitchell was back at work, in a cramped research laboratory in the pharmacy department at Kansas University. Her daughter had worked with her in the lab, so memories of Brianna were everywhere she looked.
Brianna worked at KU as a research assistant from March to July 2004, until her illness prevented her from carrying on. She worked beside her mother, doing stem cell research, hoping to some day cure the very disease that plagued her much of her life. Her unfinished experiments now are idle in the lab's refrigerators.
"I will finish a lot of it in her honor," her mom said.
But right now, Kathy Mitchell's primary quest is to improve mental health services in Lawrence.
"My hope is that this doesn't happen to someone else," she said. "As a community we need to make it a priority that there are enough facilities for mental health. We need it and there shouldn't be any other people to suffer the loss I suffered."
Officials at Bert Nash recognize the system didn't work.
"This is a tragic case," Bert Nash CEO Dave Johnson said. "Her obituary is hanging over my desk until we get this problem solved. In retrospect, you know if you don't have a life-saving service available in the community, eventually you could have a circumstance like this one."
Currently, there are no inpatient treatment options in Lawrence for those who are dangerously mentally ill. LMH scaled back its mental health unit in September 2003 and closed it in May 2004.
Patients who need psychiatric hospitalization must travel to hospitals in Topeka, the Kansas City area or to the state hospital in Osawatomie.
Johnson said there was no substitute for local inpatient services.
"There's no alternative," Johnson said. "For those individuals who need it, it is often times critical and it's always preferable.
Seeking a strategy
LMH officials said they could not talk specifically about Brianna Mitchell's case, but hospital CEO Gene Meyer seemed doubtful about the chances of the hospital's inpatient mental health unit reopening without some major changes.
"I think we need to gather additional information about how to handle this," Meyer said. "We have to look at what is best for the community, and how those services can be provided in the most quality fashion. We don't really have all the answers to those important questions."
Meyer has said he hoped to develop a new mental health strategy sometime this year. Hospital board members just last week agreed to work with a coalition of area health care and social service providers to tackle the issue.
The Community Health Improvement Project has scheduled a meeting to discuss mental health services at 7:30 a.m. Feb. 2 at the Lawrence-Douglas County Health Department, 200 Maine.
Organizers can expect Kathy Mitchell.
"I'm going to be there, my parents are going to be there, and we're going to tell everyone Brianna's story," she said.
"It's extremely frustrating and tragic that my daughter is gone, and I can't bring her back," she said. "I just hope the community is aware of this issue because a beautiful young woman who had a lot to give to society, who was very talented, is lost, not just to me but to many people, and the things she could've done with her life are lost."
Copyright 2018 The Lawrence Journal-World. All rights reserved. This material may not be published, broadcast, rewritten or redistributed. We strive to uphold our values for every story published.