Paul Heath can think of a plenty of reasons why a young dentist would want to settle in rural Kansas.
There's the monopoly factor. Often dentists are the only one practicing their trade in the area, and it's easier to start up a clinic. And many dentists like the variety of small-town practice, with few or no specialists nearby.
For Heath, the only dentist in McLouth, the reasons were simpler. He had practiced in Platte City, Mo., for 23 years, stopped for two years to sail the Caribbean, and wanted to return to an easy-going life.
"It's a nice, small town," he said. "I just love it up here. It's a great place to be."
Health-care advocates in the state wish there were more dentists with Heath's attitude.
A report issued Thursday by the Kansas Health Institute shows Kansans in rural areas don't have adequate access to dental care, and the problem is likely to grow in the next 40 years. Advocates said the state must take immediate action to increase the number of dentists.
The report, commissioned by the United Methodist Health Ministry Fund, says rural Kansas residents are 8 percent less likely to have visited a dentist in the past year than their urban counterparts. Rural counties have had one dentist fewer per 10,000 residents than urban counties since the 1990s.
Thirty-six Kansas counties have been designated as Dental Health Professional Shortage Areas by the U.S. Health Resources and Services Administration, which means they have less than one full-time dentist per 4,000 people. Those counties include Jefferson County, where Heath practices.
"When you get 70 or 100 miles away from metropolitan areas, and especially in western Kansas, there's a problem out there," Heath said. "There are a lot of good dentists, but they can't see everybody."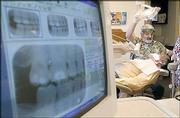 The dentist shortage also is having an effect on the poor in Kansas, the report says. More than 40 percent of adults earning less than $25,000 a year have not visited a dentist in more than a year, and 13 percent of adults in that category have lost all their permanent teeth.
Problem worsening
The state's demographics won't help the problem over time, the study says.
There are 36.8 dentists per 100,000 people in the state this year, but the number is expected to drop to 29.4 by 2045. That's because the population will increase while the supply of doctors is expected to remain stagnant.
Nationally, there are about 55 dentists per 100,000 people.
"This is going to worsen, if we don't do anything different," said Kim Moore, president of the United Methodist Health Ministry Fund, which is based in Hutchinson. "We're going to face a prolonged and worsening situation for vital services."
He cited Mission of Mercy dental clinics, which have drawn thousands across the state, as a sign of the need for better oral care. Another event is scheduled next month in Salina.
"There's an aggregate pain and suffering because we don't have adequate dental access," Moore said. "I don't think much of it is too necessary. We can do better."
Possible solutions
The report makes six suggestions for improving dental access:
Establishing a dental school and graduate dental residencies.
Allowing advanced dental students to provide services in under-served areas.
Requiring dental students paying back state loans or receiving education subsidies to locate in underserved areas.
Expanding the services that can be offered by hygienists and other non-dentist professionals.
Increasing Medicaid reimbursement rates so more dentists are willing to serve Medicaid patients.
Expanding Medicaid eligibility to low-income adults.
Health care professionals from across the state are meeting today in Topeka to discuss the recommendations. A committee appointed by Oral Health Kansas, a statewide advocacy group, is expected to make their final policy recommendations Feb. 8.
Andrew Allison, who wrote the report, said adopting many of the changes would be difficult.
"They could be expensive, and there could be tradeoffs with other public policies and needs of society," Allison said. "There also are some risks and questions about what services non-dentists can provide. We just want to open the public policy process to arrive at a solution."
Copyright 2018 The Lawrence Journal-World. All rights reserved. This material may not be published, broadcast, rewritten or redistributed. We strive to uphold our values for every story published.