Topeka — State officials say no changes are needed in the sandhill crane hunting season despite recent fatal shootings of two federally protected whooping cranes, which hunters said they mistook for sandhill cranes.
"Trying to isolate hunters from whooping cranes doesn't appear to be the best approach over the long term," a Kansas Wildlife and Parks biologist report says. "The bottom line is that sport hunting will not cause the demise of the whooping crane population or program."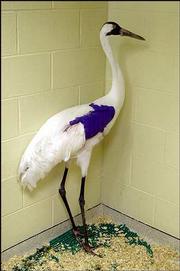 The Kansas Wildlife and Parks Commission today will have a public hearing on the issue.
Susan Iversen, conservation chairwoman of Lawrence's Jayhawk Audubon Society, said she was disappointed to hear about the state's position.
"I would be disappointed if the outcome would be that there wouldn't be any ameliorations," she said.
In November, a group of hunters said they mistook the rare whooping cranes for sandhill cranes, which are more plentiful and for which there is a legal hunting season.
After the incident, some animal advocates called for abolishing sandhill crane season, while others sought changes in the season, such as starting it later in the year and allowing shooting later in the day, so that hunters' ability to discern a whooping crane from a sandhill crane wouldn't be hampered during the sunrise.
Copyright 2017 The Lawrence Journal-World. All rights reserved. This material may not be published, broadcast, rewritten or redistributed. We strive to uphold our values for every story published.