San Francisco — Internet giant Yahoo Inc.'s fourth-quarter profit nearly tripled and easily beat Wall Street expectations, reflecting a worldwide boom in online advertising and capping a year of solid financial results.
The e-commerce giant, which operates the world's most popular Internet destination, said Tuesday it earned $373 million, or 25 cents per share, for the three months ended Dec. 31.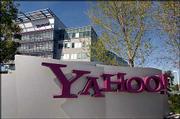 Excluding profits from the sale of some investments, the company earned $187 million, or 13 cents per share, up 149 percent from $75 million or 5 cents per share in the same quarter of 2003.
Analysts expected the Sunnyvale, Calif.-based Internet portal to earn 11 cents per share.
Revenue for the fourth quarter totaled $1.078 billion, a 62 percent increase from 2003.
After subtracting commissions paid to some of its advertising partners, Yahoo's revenue fell to $785 million in the final quarter of 2004 -- still 54 percent more than the fourth quarter of 2003 and substantially higher than the $756.14 million analysts had expected.
Yahoo earned $840 million, 58 cents per share, in 2004. Excluding special items, such as a windfall from selling stock in Google Inc., Yahoo earned $526 million, or 36 cents per share, compared to $238 million, or 18 cents per share in 2003.
Yahoo's shares gained 48 cents to close at $37.18 on the Nasdaq Stock Market, then climbed another 40 cents in extended trading.
Copyright 2018 The Associated Press. All rights reserved. This material may not be published, broadcast, rewritten or redistributed. We strive to uphold our values for every story published.