Topeka — Several hundred people Monday rallied on opposite sides of the same-sex marriage issue as legislative leaders announced the Senate would vote on the issue Thursday.
"It's time to vote," Senate Majority Leader Derek Schmidt, R-Independence, said as the 2005 Legislature convened.
Cold temperatures and drizzle chased events inside the Statehouse as those supporting a constitutional ban on same-sex marriage rallied on the second floor, while those opposed to the measure met on the first floor.
The rallies were held simultaneously and within earshot. At times it seemed each group was trying to be louder than the other.
John Henry, pastor of Central Community Church of Wichita, said Christians needed to speak out against same-sex marriage.
"It is time for Christians to be salt and be light," he said.
"Same-sex marriage is ridiculous," said Russell Warnky, who traveled from Wichita.
Joey Kerns of Lawrence was among those at the rally on the first floor of the Statehouse opposing the amendment.
"I think this amendment is ridiculous," he said.
The rallies appeared similar in size with a combined total of several hundred participants.
Senate leaders announced Monday they would try to vote on a proposed same-sex marriage ban Thursday.
To get on the ballot, constitutional amendments require a two-thirds vote in the House and Senate. Then, if approved by a majority of voters, the proposal becomes part of the Kansas Constitution.
Aside from the battle about the amendment, a fierce debate is being waged about when to place it on the ballot if it gains the required votes in the Legislature.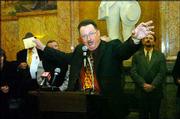 A group of fundamentalist ministers want to have it on the ballot April 5 during local city and school board elections.
But some lawmakers said it would be better to wait until the November 2006 general election.
Sen. Tim Huelskamp, R-Fowler, said he supported having Kansans vote on the measure in April.
"People want to vote on this as soon as they can," he said. "This amendment is going to bring out a huge turnout for people who care about marriage."
Same-sex marriage is already banned in state law, but supporters of a constitutional amendment say it is needed to further protect marriage.
Forrest and Donna Swall of Lawrence, opponents of the same-sex marriage ban, attended Monday's rally with about 20 other Lawrence residents.
Swall, who served in the Kansas House in 1993-94, said it was possible the measure would fail to get the two-thirds vote necessary in the Legislature.
"There are enough legislators who, if they vote their sensibilities, it will not pass," he said.
Last year, a similar amendment was approved in the House by a two-thirds vote but then failed in the Senate. Later in the session, it was the Senate that adopted the measure, and several votes switched in the House to stop it.
Sen. Pete Brungardt, R-Salina, said he opposed the proposal.
"I believe Kansans are accepting. We cannot allow political handlers and (so-called) fundamentalists to define us any other way," he said.
The Rev. C. Welton Gaddy, president of the Washington, D.C.-based Interfaith Alliance, traveled to Kansas to urge defeat of the measure.
"This is more about power and control than it is about religion and democracy," he said.
Copyright 2018 The Lawrence Journal-World. All rights reserved. This material may not be published, broadcast, rewritten or redistributed. We strive to uphold our values for every story published.