Banda Aceh, Indonesia — Indonesia's military asked aid groups in tsunami-stricken areas Monday to draw up a list of international relief workers as fears arose for the safety of foreigners helping survivors in a region wracked by rebellion long before the waves hit.
The request underlined the unease with which Indonesia has faced the growth of the biggest aid operation in history, replete with foreign soldiers and civilian humanitarian workers.
Indonesian authorities have long been wary of foreigners' presence in the tsunami-stricken Aceh province, where separatists have been fighting government troops for more than 20 years. Foreigners were banned from the province at the northern tip of Sumatra island until the earthquake hit Dec. 26, touching off the tsunami.
Joel Boutroue, head of the U.N. relief effort in Aceh, said he did not believe Indonesia was trying to impede aid efforts with its request for information.
"It's normal they want to know where people are," he said. "I think it's a legitimate concern for the security of relief workers, considering the environment in which we're working."
President Bush said Monday the United States had a duty to continue helping the tsunami's victims, but he did not put any more money behind his commitment for long-term assistance. After hearing Secretary of State Colin Powell's firsthand report of damage in the region, Bush told reporters "we'll see" if the United States will give more than the $350 million in relief already pledged.
In Indonesia, fears of epidemic increased after medical teams detected two unconnected cases of measles and quickly vaccinated more than 1,000 people in nearby villages. Altogether, UNICEF is vaccinating some 600,000 survivors in Sumatra's devastated regions.
Relief supplies to Aceh province were halted briefly by the crash of a U.S. Seahawk helicopter. The chopper went down in a rice paddy about 500 yards from the airport in Banda Aceh, the provincial capital and the hub of the aid effort.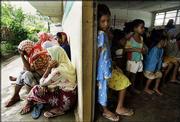 Lt. Cmdr. John M. Daniels, a U.S. military spokesman aboard the USS Abraham Lincoln, said one person fractured an ankle and another suffered a dislocated hip. The other eight sailors on board suffered "no significant injuries," he said.
He blamed the Monday morning crash on a "possible mechanical failure." U.S. authorities said there was no indication the helicopter had been shot down.
And in Aceh Besar, children returned to school Monday, some in freshly cleaned uniforms, others raggedy in bare, muddy feet. Many remained edgy two weeks after southern Asia's earthquake and tsunami catastrophe.
"Today we're just teaching them how to pray in these difficult times," said Sutrisini, the principal of Guegajah Elementary School.
Copyright 2018 The Lawrence Journal-World. All rights reserved. This material may not be published, broadcast, rewritten or redistributed. We strive to uphold our values for every story published.