Every day for the seven months she was in Baghdad, Sgt. Lori Arnold read the sign posted above the entrance to one of the buildings in the Green Zone.
"It said something like 'What have you done for the people of Iraq today?'" she said. "It was meant to remind us of why we were there."
Already, several fellow soldiers had raised about $150 for a local charity. But Arnold, who had been teaching fourth grade at Pinckney School when she was called to active duty last February, knew that a nearby Iraqi school that catered to refinery workers' children was desperate for supplies.
"I contacted some people at Pinckney," Arnold said. "Students and teachers helped collect all kinds of stuff -- paper, pencils, Crayons, erasers, scissors. They were very generous."
Arnold, who grew up in Hutchinson, said she was teased by fellow soldiers for receiving so many packages from Pinckney as well as relatives, friends and well-wishers.
"When it got to be too much, a lot of us would take cookies to the hospital and share them with the (wounded) soldiers," she said. "But you'd be amazed. In spite of all you hear about supporting the troops, there are lots of (soldiers) who never get a thing."
Cindy Harrison, a resource-room teacher at Pinckney, coordinated the school's collection effort.
"As far as I'm concerned, anybody who's over there deserves anything we can do," Harrison said. "We didn't do it to support the war. We did it to support Lori."
A five-year member of the U.S. Army Reserves' 824th Quartermaster Detachment, Arnold, 31, spent seven months in the so-called Green Zone, the fortified area of Baghdad that houses Iraq's interim government and the U.S. and British embassies.
Based in Lawrence, her 11-member detachment returned home Dec. 23.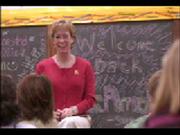 Arnold returned to her fourth-grade classroom Monday.
"It went well," she said. "I still have a lot of work to do, but it's good to be back. I'm excited and the kids seem to be excited to have me."
"We're very pleased she's back," Harrison said. "She looks great!"
Rocket fire
Though never in combat, Arnold said it wasn't unusual to hear rocket fire at night, and she was once part of a convoy fired upon while negotiating a traffic circle in Mosul.
"No one was hurt," she said, "and I wasn't really scared. But I remember thinking, 'OK, we can get moving anytime now,' because even though you're not in danger, you want to do everything you can to be safe.
"So in that context, I guess, you're always in danger," she said.
While in training, Arnold said she was constantly told to be on the lookout for trash -- a discarded soft-drink can, for example -- that could be a roadside bomb.
"What they don't tell you is there's trash everywhere in Iraq," she said. "It's not like it is here with landfills and someone picking up your trash once a week. There's trash all over the place."
It's plenty hot, too.
"The hottest it ever got was 140 degrees," Arnold said. "Most of the time it was 115 degrees. I feel sorry for the Marines you see on TV in all their gear in that heat. It's even hotter in the Humvees."
Hopes for future
Arnold said she doubted U.S. troops would leave Iraq anytime soon.
"I just don't see it happening," she said. "There is so much to be rebuilt and, right now, what you hear from some Iraqi people is they have no hope. They say there may be hope for the future 20 years from now, but for now, there isn't any."
Arnold and her husband, Scott Kemme, got married shortly before she left for Iraq. There wasn't time for a formal wedding.
"That'll be in October," Arnold said.
Copyright 2018 The Lawrence Journal-World. All rights reserved. This material may not be published, broadcast, rewritten or redistributed. We strive to uphold our values for every story published.