Kansas University has one of the best basketball teams in the country and one of the most banged-up.
The No. 2-ranked Jayhawks, who improved to 11-0 by clipping then-No. 8 Kentucky, 65-59, Sunday in Lexington, Ky., had a lengthy injury report Monday.
"Our injury situation is not great," KU coach Bill Self said.
Senior Keith Langford, who suffered a concussion after diving headfirst for a loose ball, is questionable for Wednesday's 7 p.m. game at Iowa State.
"The CAT scan was very favorable, so we feel if he can handle it he'd have a chance to play Wednesday," Self said. "We liked the progress report better last night than what it could have been. He'd still right now be questionable, but there's a chance he could play.
"A lot will depend on how he feels. He will not feel good for a couple of days at least."
Junior Christian Moody, who sprained his left ankle with 1:29 left, couldn't walk when KU's charter flight returned about 10 p.m. Sunday. His foot was in a boot Monday.
"He couldn't walk this morning, but by the end of the day could walk a bit," Self said, listing Moody as doubtful. "We hope it'll be one of those day-to-day things where he'll get better fast."
Freshman Russell Robinson suffered a scratched cornea in his left eye in the second half and logged just two minutes in the half.
Self said he thought Robinson would be available Wednesday.
"Russell is a typical freshman in that he wants to play. He got hit and scratched his cornea but didn't tell us he couldn't see," Self said on his Hawk Talk radio show.
"I said, 'Russell, why didn't you tell us you couldn't see?' He said, 'You wouldn't have put me back in.' I said, 'Russell, this is a pretty big game. We need to have guys out there who can see out of both eyes."
Senior Wayne Simien, who has missed four games following surgery on his left thumb, is doubtful for Wednesday.
"I guess there's always a chance he could play, although he still hasn't practiced yet," said Self, who on the Big 12 teleconference listed Simien's chances of playing as in "the one-percent range."
"We haven't found the exact thing he can potentially wear (on thumb). We're close on that. I think Wednesday is wishful thinking. I don't think that can occur. Stranger things have occurred. I just can't see that happening."

Wild question: KU coach Bill Self was asked Monday on the Big 12 teleconference if he thought the Jayhawks could enjoy a perfect season ... as in all wins, no losses.
"We've got a lot of good teams left to play," Self said, not belittling the question or the questioner.
Indiana was the last team to finish a season unscathed in 1976 with a 32-0 mark. The last team to finish a regular season undefeated was the 1990-91 UNLV squad, which went 27-0 and won seven postseason games before falling to Duke in the national semis.
"Though we have a good road win, we've not proven it over time. We've got nine road games left," Self said. "A team would have to be awfully healthy, lucky, mature to do that. I wouldn't get too carried away with that. I'm proud of our guys. Our goal is to win every night. Our margin of error is less with our health situation.
"I do think we have a chance to win every game we go into. Every coach believes that. But to win every game would be wishful thinking. I hope it happens. If it doesn't, it's not one of those things we'd be deflated from."
On Hawk Talk, host Bob Davis asked Self about the zany teleconference question.
"That's ridiculous. Our season just started," Self said. "We are off to a good start. We've got a long ways to go. Good gosh, going to Ames and potentially not being at full strength will make it one of the toughest road trips we can take anywhere. There's not as much margin for error. When there's not much margin for error you have to do your best night in and out."

Self on KU's win at Rupp Arena: "Our defense was terrific the entire game. Our kids played like men. That's why we won the game."

Giddens misfiring: J.R. Giddens has gone 0-for-12 from three-point land in KU's last two games.
"I think J.R. always tries," Self said. "The thing about J.R. is he's doing the same things he was doing last year, just not making shots like last year. He will make shots. We need him to make shots. Shot selection with him has not been as good. He is playing five feet behind the arc. He has to do a better job of putting himself in position to score.
"We need J.R. to play at the level he's capable of playing at. I don't think it's to the point he doesn't believe he can't do it. He always thinks the next one is going in."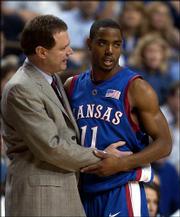 Copyright 2018 The Lawrence Journal-World. All rights reserved. This material may not be published, broadcast, rewritten or redistributed. We strive to uphold our values for every story published.