La Conchita, Calif. — A huge mudslide crashed down on homes in a coastal hamlet with terrifying force Monday, killing three people and leaving up to 12 missing as a Pacific storm hammered Southern California for a fourth straight day.
Ventura County Fire Department Chief Bob Roper said as many as a dozen residents were missing in the mudslide that pummeled a four-block area of homes in tiny La Conchita, about 70 miles northwest of Los Angeles.
Eight people were injured, including a 60-year-old man who was buried for three hours. The three confirmed dead were all adult males.
"It lasted a long time. It was slow-moving. The roofs of the houses were crashing and creaking real loud and there was a huge rumble sound," said Robert Cardoza, a construction worker who was clearing debris from a nearby highway.
The mudslide brought the number of dead from the latest wave of storms to 12 in California. The storms have sent rainfall totals to astonishing levels, turning normally mild Southern California into a giant flood zone.
The hillside in La Conchita cascaded down like a brown river as authorities were evacuating about 200 residents from the area. Trees and vegetation were carried away, leaving huge gashes of raw earth on the bluff.
The destruction at La Conchita was the worst disaster of the storms to date, but mudslides and flooding were reported throughout the region, blocking road and rail travel and forcing a shutdown of interstate petroleum supply lines.
California's death toll also includes a 2-year-old girl who slipped from her mother's grasp as rescuers tried to hoist them from a car submerged on a road outside Los Angeles.
Elsewhere, avalanches killed two people in Utah and one in Nevada -- a 13-year-old snowboarder who was swept off a ski lift to his death. Also in Utah, a man was presumed dead after rushing water swept him off his vehicle.
From the start of the latest dose of violent weather on Friday through Monday evening, several mountainous areas in Southern California had recorded more than 20 inches of rain.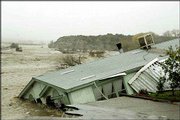 Copyright 2018 The Associated Press. All rights reserved. This material may not be published, broadcast, rewritten or redistributed. We strive to uphold our values for every story published.