Baghdad, Iraq — A U.S. general warned Friday that insurgents may be planning "spectacular" attacks to scare voters in the three weeks before Iraq's landmark elections, and Shiite and Sunni religious leaders voiced sharply divergent views on whether the vote should be held at all.
Air Force Brig. Gen. Erv Lessel, who is deputy chief of staff for strategic communications in Iraq, said the United States had no intelligence indicating specific plots, but he said American leaders expected a rise in attacks.
He said the insurgents' biggest weapon was their ability to instill fear.
"I think a worst case is where they have a series of horrific attacks that cause mass casualties in some spectacular fashion in the days leading up to the elections," Lessel said.
"If you look over the last six months, they have steadily escalated the barbaric nature of the attacks they have been committing. A year ago, you didn't see these kinds of horrific things," he said.
In Washington, President Bush expressed optimism about the Jan. 30 elections, saying they would be "an incredibly hopeful experience," despite rising violence and doubts that the vote will bring stability and democracy.
"I know it's hard but it's hard for a reason," Bush said, adding that the insurgents were trying to impede the elections because they fear freedom. He acknowledged security problems in four of Iraq's 18 provinces.
The comments came amid an escalating insurgency ahead of the parliamentary vote believed to be led by minority Sunnis, who dominated the country during Saddam Hussein's regime. In the election -- the first democratic vote in Iraq since the country was formed in 1932 -- the Sunnis are certain to lose their dominance to the Shiites, who comprise 60 percent of Iraq's 26 million population.
Reflecting Shiites' demands to hold the vote as scheduled, and Sunnis' calls for a boycott or postponement, two senior religious leaders expressed sharply differing views during Friday prayers.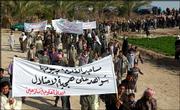 "We want all the Iraqis to participate; we also insist on holding the elections as scheduled and to put these elections behind us as a way to end the conflict in Iraq," Saadr Aldeen al-Qubbanji, a leader of a prominent Shiite party, the Supreme Council for the Islamic Revolution in Iraq, said in the southern city of Najaf.
"We all want elections, but we are seeking fair and free elections," Sheik Mahmoud Al-Somaidie of the Sunnis' Association of Muslim Scholars said in Baghdad. "Those of us who are calling for postponement are seeking that for the benefit of the country. Elections have to be an Iraqi demand, not the demand of the foreign countries."
The United States insists on holding the vote as planned, and strongly opposes a postponement.
This week has seen a string of assassinations, suicide car bombings and other assaults that killed more than 90 people, mostly Iraqi security troops, who are seen by the militants as collaborators with the American occupiers. The insurgency is apparently intended to scare voters.
On Friday, a police captain was killed in a drive-by shooting in Abu Ghraib west of Baghdad, police said. In the northern city of Mosul, gunmen shot to death a policeman walking near his house. And in the central city of Samarra, a roadside bomb exploded near a U.S. military base, killing an Iraqi, police Capt. Hashim Yassin said.
The assaults came a day after a roadside bomb killed seven U.S. soldiers in Baghdad, the deadliest attack on American forces since a suicide strike in Mosul 2 1/2 weeks ago that killed 22 people, including 14 U.S. soldiers. Two Marines also were killed Thursday in western Iraq.
Copyright 2018 The Associated Press. All rights reserved. This material may not be published, broadcast, rewritten or redistributed. We strive to uphold our values for every story published.