PHILADELPHIA, MISS. — A stooped, frail-looking 79-year-old former Ku Klux Klan leader was brought into court Friday to answer for one of the most heinous crimes of the civil rights era -- the killing of three voter-registration workers beaten and shot 40 years ago.
Edgar Ray Killen, his head slightly tilted, uttered a strong "not guilty" three times to three murder charges in a case that marks the latest effort by Mississippi to confront its bloodstained racist past as one of America's most fiercely segregationist states.
Killen, a part-time preacher who will turn 80 later this month, was arrested Thursday after being indicted by a grand jury.
Mississippi Atty. Gen. Jim Hood and Dist. Atty. Mark Duncan would not discuss what evidence they developed or exactly what role authorities believe Killen had in the killings, which galvanized public opinion in 1964 and were dramatized in the 1988 movie "Mississippi Burning."
But Killen's name has been associated with the case from the beginning. And FBI records and witnesses from a 1960s federal trial in the case indicated that he organized the carloads of Klansmen who followed the civil rights workers out of town and waylaid them on the night of the killings.
James Chaney, a 21-year-old black Mississippian, and two white New Yorkers, Andrew Goodman, 20, and Michael Schwerner, 24, were stopped by Klansmen, beaten and shot to death. Their bodies were found 44 days later, buried in an earthen dam.
"We've been investigating the case for several years now," Duncan said. "It just finally got to the point where we felt like we had done all that we can do. It was time to present whatever we had to the grand jury and let them make a decision on the case."
In 1967, the U.S. Justice Department tried Killen and 18 other men -- many of them also reputed Klan members -- on federal civil rights violations. Seven were convicted and sentenced to prison terms ranging from three to 10 years. The all-white jury deadlocked in the case against Killen, and he was freed.
Until this week, the state of Mississippi never brought murder charges against anyone in the case. And Killen has long denied any role in the murders.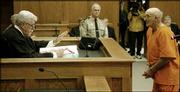 Prosecutors said they did not plan on charging anyone else in the case; the state will not seek the death penalty.
The charges mark a reopening of one of the most notorious cases of the civil rights movement.
Chaney, Goodman, and Schwerner were participating in Freedom Summer 1964, when hundreds of young people -- mostly white college students from the North -- came to the South to register blacks to vote and start educational programs.
On the day of the crime, they were arrested and accused of speeding while driving to investigate the ruins of a black church that had been firebombed. Then they were released. Authorities said Killen organized the ambush while the men were being held by police.
Copyright 2018 The Associated Press. All rights reserved. This material may not be published, broadcast, rewritten or redistributed. We strive to uphold our values for every story published.