Kapalua, Hawaii — Vijay Singh quickly left everyone in his massive wake Friday. By the end of the second round in the season-opening Mercedes Championships, he left them a little hope.
Singh played his first seven holes in 6 under to open a large lead on the Plantation Course at Kapalua, then settled down with a series of pars to finish with an 8-under 65 for a two-shot lead over Mike Weir.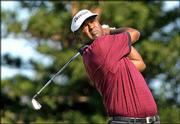 Despite the sluggish finish, the 41-year-old Fijian was halfway home to the tournament scoring record. And he made it as clear as the Pacific waters below that he's still the man to beat on the PGA Tour.
"He shows no signs of slowing down," Weir said after making up ground with a 10-under 63. "It's just a given he's going to be there."
Singh was at 15-under 131 after curling in a 10-foot birdie putt on the par-5 18th.
Ernie Els, who set the 72-hole record two years ago at 31 under, played solidly from start to finish for a 65 that left him three shots out of the lead. Sergio Garcia and Jonathan Kaye were another stroke back after 67s.
Tiger Woods might be right up there with Singh if he can ever figure out his putting. Woods missed three straight birdie chances inside 8 feet on the front nine, and ended his round of 68 by three-putting from 35 feet, missing a 4-footer for birdie. He was 10 under, five shots behind the man who replaced him at No. 1 in the world.
"I had my chances to post a good, solid round," Woods said. "And I didn't do it."
Copyright 2017 The Lawrence Journal-World. All rights reserved. This material may not be published, broadcast, rewritten or redistributed. We strive to uphold our values for every story published.