Bill Self and Billy Gillispie will put their friendship on hold for about 2 1/2 hours tonight when their undefeated college basketball teams tangle at Allen Fieldhouse.
"I'll really enjoy seeing him. And my family will, before the game and after the game," Kansas University coach Self said of the 8 p.m. matchup between KU (9-0) and Texas A&M; (11-0).
The Aggies are coached by Gillispie, who worked on Self's staffs at Tulsa and Illinois.
"Our job is to beat him. His job is to beat us. It won't be enjoyable. It's no fun coaching against assistants," Self said.
It's no fun coaching against mentors, either.
"He's my best friend. He's number one," Gillispie said. "I shouldn't get emotional, but I do. I have a great situation right now because of him and I just love him. But when we play, we will try to beat them and they will try to beat us."
The two coaches, who speak on the phone frequently -- in October, they attended Game Four of the World Series together in St. Louis -- haven't discussed game plans for tonight. They've scheduled chalk-talk sessions in days following the game, however.
"He's very eager to help. We talked about that," Gillispie said. "We'll make comments after the game about what we thought playing each other. He's always helped me a lot. If I have a question how to guard someone, I'll call him."
Today, the coaches will need no outside counsel on how to guard the combatants. Not surprisingly, the two teams run the same systems.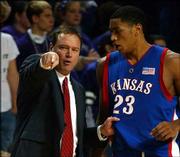 "Put different uniforms on them and it's like watching us play," Self said. "Actually, they execute better than we do.
"I said, 'Billy, you run 2-game (high-low) better than we do.' The biggest thing he does is get them to play hard and guard. We don't have to spend as much time guarding their stuff because we go against it every day. Do they look at us and we look at them and say, 'Can we guard our own stuff?'''
What's even wilder is the fact the coaches may be able to read their counterpart's mind during the game.
"He knows me better than I know me. I know him better than he knows himself in a lot of ways," said Self, who at 42 is two years younger than his pupil.
The cosmic connection between the two may not affect the final score, however.
"No, it doesn't make it easier. This game is not about plays, it's about players," said Gillispie, who in one season turned around Texas-El Paso from a last-place to first-place finish in its conference before switching to A&M.;
"The difficult thing is they have good players who are well-coached," Gillispie said. "They play the way they are supposed to. As far as a coach, I understand what he wants, play hard, smart and together."
Everybody figured KU would have a strong team this year. Nobody figured the Aggies would be off to the school's best start since 1921-22 and take a perfect mark into Big 12 play.
"I had no idea. When you start saying stuff like that, you lose all your games," Gillispie said. "I told (Self) they'd probably be undefeated. If I said anything to him, it would be that hopefully we'd be a team that would play hard, smart and together."
Self isn't surprised Gillispie has the Aggies off and running. He advised the native Texan Gillispie to move from UTEP to A&M.;
"I told him he had to do it," Self said. "They were struggling. I thought, like UTEP, they could get it turned quickly. It's a perfect fit for him. I thought this was one if he didn't take it I thought he'd regret it later."
Self said Gillispie was at home coaching in Texas.
"He is the best recruiter in the state of Texas," said Self, who hired him for that reason at Tulsa. "It's what I've thought from Day One, and there are so many guys in Texas. He knows everybody in Texas.
"You could go to a high school track coach or football coach in Dallas and the coach will ask you how Billy Clyde is doing. You go to Houston and it'd be the same thing. He has a way about himself."
The Aggies are led by junior forward Antoine Wright (18.0 points per game) and guard Acie Law (13.5). The team has home wins over North Carolina A&T;, Trinity, Texas-Permian Basin, Oakland, Prairie View A&M;, Alabama A&M;, Louisiana-Monroe, Chicago State, Grambling and Houston, and a win at Penn State.
"We're taking baby steps," Gillispie said, "but we're headed in the right direction."
Of his pal's team, he said: "Bill's done a great job and might have the best team in the country."
The two can debate that ... after 10 tonight.
Copyright 2018 The Lawrence Journal-World. All rights reserved. This material may not be published, broadcast, rewritten or redistributed. We strive to uphold our values for every story published.