The following are cancellations, postponements or delays brought upon by today's weather conditions. We will continue to update these throughout the day.
Most recent reports:
The following school districts have canceled classes for Thursday: Anderson County, Baldwin, Basehor-Linwood, Central Heights, Eudora, Lawrence, Louisburg, McLouth, Osawatomie, Oskaloosa, Ottawa, Paola, Perry-Lecompton, Piper, Santa Fe Trail, Tonganoxie, Wellsville and West Franklin.
The Lawrence Catholic School has canceled Thursday's classes.
Veritas Christian School has canceled Thursday's classes.
Bishop Seabury Academy has canceled Thursday's classes.
The Lawrence Head Start Program is canceled for Thursday.
Raintree Montessori School has canceled classes for Thursday.
Johnny Appleseed Preschool is canceled Thursday.
First Presbyterian Preschool is canceled Thursday.
Immanuel Lutheran Child Center is canceled Thursday.
Montessori Children's House is canceled Thursday.
Kansas University is allowing all non-emergency personnel to show up to work one hour later than scheduled on Thursday. All emergency personnel should show up for their regularly scheduled shifts.
Lawrence Apple Users Group monthly meeting is canceled tonight. The next meeting will be the regular first Wednesday of the month for February.
Parks and Recreation Department facilities will close at 5 p.m. today. Buildings include: all recreation centers including Holcom Park Recreation Center, 2700 W. 27th St.; Community Building, 115 W. 11th St., and East Lawrence Recreation Center, 1245 E. 15th St. The Indoor Aquatic Center, 4706 Overland Drive, and Prairie Park Nature Center, 2730 Harper St. will closed at 3:30 p.m. All aquatic fitness classes scheduled for Thursday, have also been canceled and will be rescheduled at a later date.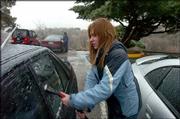 The Indoor Aquatic Center is scheduled to reopen at 7 a.m. Thursday, while all other recreation facilities will reopen at 10 a.m., weather permitting. Eagle Bend Golf Course and Learning Center, 1250 E. 902 Road, will remain closed until greens are in condition for play.
Montessori Children's House of Lawrence has closed for today.
All Lawrence Parks and Recreation gymnastics classes at Kansas University's Robinson Health and Physical Education Center are canceled for tonight.
Jazzercise classes at 1017 Mass. are canceled for the rest of the day.
Due to inclement weather, the DeSoto school board has canceled its regular meeting for tonight. A special meeting will be held at 12:30 p.m. in the board room at the district's administrative offices at 35200 W. 91st St. in DeSoto.
Air Midwest, dba US Airways Express, has notified the city of Manhattan that all outgoing and incoming flights to Manhattan Regional Aiport have been canceled because of the severe winter storm advisory.
The Interagency Network on Aging's legislative forum scheduled for today at Lawrence Memorial Hospital has been canceled because of the inclement weather.
Jayhawk Area Agency on Aging Inc., will close at 1 p.m. today because of inclement weather.
The Task Force on Homelessness neighborhood focus group meeting tonight is canceled.
Call 832-7700 with questions.
Lawrence Public Library does not have power and will be closed for the day.
Bingo for tonight at Eagles Lodge on West Sixth Street is canceled.
All of tonight's activities at First Church of the Nazarene have been canceled.
No services will be held tonight at the Calvary Temple Assembly of God Church.
Morning Star Church services for tonight have been canceled.
A Kansas Activities Assn. meeting for basketball officials at West Junior High School is canceled for this evening. It has been rescheduled for 9:30 a.m. Saturday.
Serologicals Lawrence Inc. will be closed today.
Independence Incorporated is closed and not running transportation.
Hilltop Child Development Center is closed today.
Meals on Wheels from Lawrence Memorial Hospital is canceled for today.
Morning Star Church services are canceled for this evening.
Kansas Department of Health and Environment in Lawrence is closed today.
School closed today
Lawrence public schools, along with its diploma completion program at 711 W. 23rd St.
Lawrence Virtual School is unaffected.
Sunshine Acres Montessori School
Bishop Seabury Academy
Lawrence Catholic schools
First Presbyterian Preschool
Immanuel Lutheran Child Center
Raintree Montessori School
Veritas Christian School
Perry-Lecompton schools
Oskaloosa schools
Tonganoxie schools
Montessori Discovery Place
Santa Fe Trail schools
Wellsville schools
Eudora schools
Ottawa schools
Basehor-Linwood schools
Other closings or cancellations
The Lawrence Jayhawk Kennel Club dog obedience registration originally scheduled for tonight is postponed until Jan 12.
First Southern Baptist Church evening activities canceled.
Endacott Society weekly meeting today is canceled.
Ballard Community Center closed.
Jazzercise 9 a.m. class canceled.
Lawrence Arts Center preschool and dance classes are canceled today.
Strategic Learning Center session canceled.
Cottonwood Inc. is closed today. Community van routes will not run. Updates can be found on their Web site at www.cwood.org.
Senior Legislative Forum at Lawrence Memorial Hospital canceled.
Task Force on Homeless Service Focus Group meeting at Lawrence Arts Center canceled and rescheduled for 8 a.m. Friday.
Lawrence Chamber of Commerce's Legislative Priorities Breakfast at Dole Institute of Politics canceled.
One of a Kind Day Care will be closed.
Preschool and dance classes at Lawrence Arts Center Preschool and Lawrence Arts Center Dance canceled.
Kansas Department of Social and Rehabilitation Services offices in Douglas, Leavenworth, Franklin, Wyandotte, Johnsons and Miami counties will be closed Wednesday. Persons needing to make a report of abuse or neglect of a child should contact local law enforcement or call 800-922-5330.
Copyright 2018 The Lawrence Journal-World. All rights reserved. This material may not be published, broadcast, rewritten or redistributed. We strive to uphold our values for every story published.