The sheep tried to resist at first, but they soon found themselves sitting in crumpled, upright positions, leaning back against the legs of Danny Smith.
They squirmed momentarily when Smith turned on the cutting shears, but once he went to work they usually settled down.
"If you hold the sheep so it is comfortable, it will sit still," Smith said later. "If it's uncomfortable, it is going to fight you the whole time you are shearing."
Saturday was haircut day at Maggie's Farm.
Twice a year at the farm, operated by Dave and Barbara Clark north of Lawrence Municipal Airport, nine sheep weighing from 100 to 225 pounds go through the process of losing their thick wool. The wool, in some cases about 4 inches thick, had been growing since the sheep had their last haircuts in September.
"The sheep are actually very happy," Barbara Clark said. "They are loving it, particularly this time of year when it starts getting warm."
Clark and her husband began raising sheep for their wool about two years ago. Barbara Clark likes to spin and weave handmade items from the wool, such as scarves, shawls, mittens and socks. She then sells them primarily at Lawrence's downtown Farmers Market under the name of Maggie's Farm, a name taken from an old Bob Dylan song.
Although she has been using wool for years, Barbara Clark learned that she had better control over the quality of the fiber if she raised the sheep herself with the help of her husband. The wool is sent to a plant where it is combed and cleaned and then shipped back to her.
Barbara Clark also learned that Smith, who at age 46 has been shearing sheep for 33 years, was the man to call during shearing season.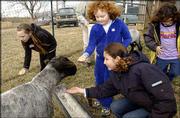 Smith, a third generation sheep shearer from Kingsville, Mo., travels to sheep farms not only in Kansas, but also in Missouri, Oklahoma and southern Nebraska. It is a part-time job now and he works primarily on Saturdays. In addition to the Clarks' farm, Smith also visited several other nearby farms where sheep needed shearing. He estimated he would shear about 70 sheep by the time the day was over.
"I can do about 20 (sheep) an hour, maybe a little more," Smith said.
It takes a lot of practice to learn how to shear sheep, Smith said.
"My dad always said the first 10,000 are the hardest, and after that they start getting a little easier," Smith said with a chuckle.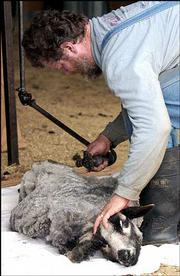 Smith, who works at a cabinet shop on weekdays, said he still enjoyed sheep shearing because of "all the different places you go and the people you meet." He also draws a crowd. Several of the Clarks' friends and neighbors, along with a few children gathered to watch the shearing process.
"It looks like the sheep are getting hurt, but they are calm," said Liseth Galloway, 11, of Lawrence, one of the onlookers. "They look cool, now."

Smith also is called on by the Kansas City Zoo to shear some of its animals, including llamas and alpacas. He also does demonstrations at schools.
"He's just great with animals," Barbara Clark said. "There aren't many like him."
Copyright 2018 The Lawrence Journal-World. All rights reserved. This material may not be published, broadcast, rewritten or redistributed. We strive to uphold our values for every story published.