Thomas-Burton
Jennifer Paige Thomas, Lawrence, and Brad Michael Burton, Overland Park, were married Oct. 2, 2004, at St. Lawrence Catholic campus center in Lawrence with the Rev. John Schmeidler officiating.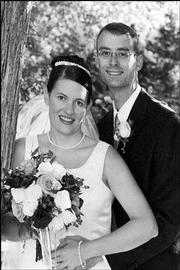 The bride is the daughter of Paul and Annette Thomas, Prairie Village. The groom is the son of Robert Burton, Wichita, and the late Kathleen Dodge Burton.
Matron of honor was Erin Hall. Best man was Dr. Brent Peters.
A dinner and dance reception was held in the evening at Alvamar Country Club.
The bride is a graduate of Shawnee Mission East High School. She received a bachelor's degree in psychology from Kansas University. She is a loan administrator for Lawrence Bank. The groom is a graduate of Kapaun Mount Carmel High School in Wichita. He received a Bachelor of Science degree in business administration from KU. He is employed at American Century Investments as a Learning Quest 529 plan specialist.
The couple reside in Overland Park.
Copyright 2017 The Lawrence Journal-World. All rights reserved. This material may not be published, broadcast, rewritten or redistributed. We strive to uphold our values for every story published.