San Salvador, El Salvador — They sever fingers with machetes in the United States and cut off heads in Honduras. U.S. officials worry they'll help al-Qaida sneak in terrorists from Mexico.
Central American gangs have spread from the streets of San Salvador to the valleys of Virginia, prompting the FBI to share intelligence and resources with southern neighbors -- launching an anti-gang strategy that reaches beyond U.S. borders.
FBI officials in Washington are expected to announce the plan as early as next week. It would centralize investigations at FBI headquarters, beef up intelligence and establish a national task force to reduce Central American gang activity in the United States.
The new strategy will likely be a hot topic of discussion Monday, when law enforcement officials from across the United States and Central America meet in San Salvador to discuss ways to keep the gang known as the Mara Salvatrucha, or MS-13, from extending its influence.
"Right now, the gangs are communicating much better than the law enforcement officials," said Harvey Smith, a consultant who is organizing the conference.
The FBI and U.S. Homeland Security officials, some of which will attend the conference, have taken a greater interest in the problem since Honduran Security Minister Oscar Alvarez said al-Qaida might be trying to recruit Central American gang members to help terrorists infiltrate the United States. He has offered no evidence, however.
Alvarez said his department began working closely with the FBI two weeks ago. Central American officials already share information regionally, including with officials in southern Mexico.
"The United States is catching up," Alvarez said. "They still don't see it as the war that we do."
U.S. Deputy Secretary of Homeland Security James Loy told Congress on Wednesday that, in addition to al-Qaida, "we are seeing the emergence of other threatening groups and gangs like MS-13 that will also be destabilizing influences."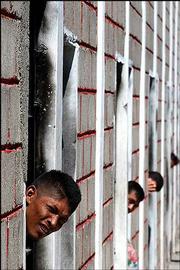 He also said there was growing intelligence suggesting al-Qaida was considering entering the United States through the Mexican border, although he had nothing conclusive. Some U.S. officials have said they fear al-Qaida will tap into the gangs' smuggling and drug networks.
Central American gangs got their start in Los Angeles in the 1980s, mainly among Salvadorans who fled their country's civil war.
By the 1990s, they had spread to Central America -- in large part because their members were deported for crimes committed in the United States.
In Central America, the gangs flourished, growing to control everything from drug trafficking to public bus routes. In Guatemala, police recently took over several bus routes after 100 drivers walked off the job to protest the protection money demanded by gangs.
Honduras made gang membership illegal in 2003 and put thousands of suspected members into already overcrowded jails. El Salvador did the same a few months later.
That sent many gang members fleeing north to Mexico and the United States, where they can be found in Dallas public schools, small southern towns, even in the suburbs of Virginia.
In Virginia's Fairfax County, Central American gang members are suspected in at least two machete attacks that left a man and a woman with serious injuries, including severed fingers.
And in the state's Shenandoah Valley, a pregnant teenager who had become an informant on the Mara Salvatrucha was stabbed to death after she left a witness protection program.
Copyright 2018 The Associated Press. All rights reserved. This material may not be published, broadcast, rewritten or redistributed. We strive to uphold our values for every story published.