New York — Picture an Elmo or Winnie the Pooh plush doll that knows a child's name and favorite food, and tells stories and sings songs incorporating such personal details. Or a new version of Furby that recognizes voices and reacts with emotions from surprise to dismay, and responds to specific words a child says.
These electronic toys -- making child's play more interactive and personal -- are among the products manufacturers are betting on to help them reclaim sales lost since 2003 to grown-up gadgets like iPod music players.
"Kids tend to remember experiences that are personalized," said Reyne Rice, a toy trend specialist for the Toy Industry Assn., a trade group.
While such high-tech offerings account for only a small number of the products being unveiled at this year's American International Toy Fair, the industry expo that officially begins Sunday, they represent the "wow factor" -- the kind of product that draws parents into stores, said Chris Byrne, a New York-based independent toy consultant.
All kinds of toys are going high-tech. Industry analysts estimate that at least 75 percent of toys debuting this year will have a microchip.
Jim Silver, publisher of the Toy Book, a New York-based industry magazine, now calls the toy business "the family entertainment business."
"The lines have blurred between toys and electronics," he said.
The new toys include:
Pixel Chix, from Mattel Inc., a hand-held gadget in the shape of a house that lets a child interact with an animated girlfriend. The toy will retail for $29.99.
Winnie the Pooh or Elmo Knows Your Name, from Mattel's Fisher-Price, a doll that can know a child's name and other personal details, such as his or her birthday and favorite games. Using a cable connection and a CD-ROM, parents can download key information into the characters. Each will be priced at $39.99.
A new version of Furby, from Hasbro Inc., which boasts a new technology -- called emotronics -- that brings the plush toy more to life. It will be able to speak interactively with the child and reacts to words like "hungry." It will be priced at $39.99.
Amazing Amanda, from Playmates Toys Inc., a 21-inch doll that can recognize her "mommy's" voice and respond after hearing it just three times. The doll is expected to sell for $99.99.
Improving sales
NPD Group, a market research company, said high-tech toys were helping to stabilize the overall toy business. Although overall sales fell 3 percent to $20.1 billion in 2004 from $20.7 billion in 2003, following a 2.9 percent drop in 2003, some products showed improvement.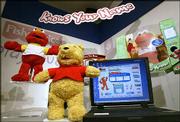 Action figures and building sets, which suffered double-digit declines in 2003, saw minimal losses in 2004, NPD said.
Manufacturers say they need to create more compelling electronic toys as children become more sophisticated and have more choices when it comes to playing and entertaining themselves, from video games to consumer electronics gadgets like digital music players and cell phones.
As microchips have become more powerful, manufacturers have been able to make more advanced toys that remain affordable. Other toys that will be displayed at the toy fair include Hasbro's $25 I-Dog, a palm-sized robotic dog that moves and grooves to music, either from stereo speakers or played through an earphone jack. Mattel is offering ChatNow, a $74.99 pair of two-way radio communicators allowing kids to call or text message their friends within a two-mile radius without paying for airtime.
Even crayon maker Crayola will be showcasing electronic coloring books, which are plugged into the TV, and electronic games for 3-year-olds.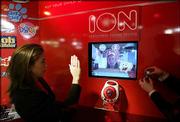 Need for creativity
Still, some toy analysts worry that all this technology interferes with a child's using his or her imagination, an important part of playing.
"I'm not convinced that having a doll that knows your name is important," said Stephanie Oppenheim, publisher of the Oppenheim Toy Portfolio, a guide to toys. "Somehow, I think it robs kids of the magic of making up their own conversations."
Ephraim Cohen, father of a 4-year-old, noted that last year he purchased LeapFrog Enterprises Inc.'s My Own Learning Leap Interactive friend, a plush doll that allows parents to record the child's name, family member names and bed time through audio prompts. The information then is incorporated into the lessons.
While Cohen, of Stamford, Conn., said his child liked playing with the doll, the toy wasn't a particular favorite.
"He plays with it as much as he plays with his other toys," Cohen said.
Copyright 2018 The Associated Press. All rights reserved. This material may not be published, broadcast, rewritten or redistributed. We strive to uphold our values for every story published.