Nikko crawled onto the floor of the Lawrence High School basketball court during halftime Friday night, and the crowd went wild.
She twirled around and raised her long arm up into the air. Fans swooned. She picked up a pyramid made of white pipes and twirled some more. The crowd couldn't get enough.
At a maximum height of 14 feet 8 inches, Nikko the robot is an impressive sight.
Built over the course of the past six weeks by members of the Lawrence Robotics Assn., a team of burgeoning engineers from Lawrence and Free State high schools, Nikko was designed to compete in a regional robotics competition this March.
The team has been building robots for competitions for four years now. Each year, the team is given a specific task for the robot to perform. Last year, the task was picking up rubber balls.
And last year's model, Ozbot, was partially recycled for the new robot.
"I wanted to keep the old robot intact," said Jordan Stobaugh, one of the founders of the robotics team. "But we ended up using a bunch of parts off of it."
This year, the team had to design a robot that could pick up a pipe pyramid and place it on top of a stand. The competition will feature six robots each trying to pick up and place as many pipe pyramids as possible in a two-minute interval.
Friday's public appearance at the Lawrence High basketball game will be Nikko's last before it gets shipped off to St. Louis on Tuesday for the St. Louis FIRST Regional Robotics Competition -- which means the team has only a few days to hone its skills before Nikko is gone.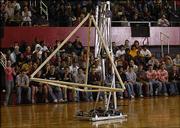 "That's the thing we're working on now: just learning how to work together and do everything faster," said Lawrence High senior Daniel Zehr, who helps control Nikko.
Nikko is controlled wirelessly by two sets of joysticks: one for the wheels, and one for the arm. LHS seniors Ramin Zangeneh and Zehr are the primary controllers.
Before the LHS boys basketball game started, Zehr and Zangeneh set Nikko and her control panel up in the school's north lobby for a practice run. Dozens of basketball fans gawked as Nikko's arm noisily reached for the flags dangling from the ceiling while the robots scurried in circles.
Mike Hart brought his 3-year-old son, Garrett, in for a closer look, and the two knelt on the lobby floor to watch Nikko roll around.
Suddenly, Zangeneh turned Nikko and rushed the robot in their direction. Garrett ran frantically toward his mother, who was watching from the doorway.
"He thought the robot was pretty good," Mike said. "Until it started coming at him. Then he freaked out."
Copyright 2018 The Lawrence Journal-World. All rights reserved. This material may not be published, broadcast, rewritten or redistributed. We strive to uphold our values for every story published.