Moscow — Russian President Vladimir Putin, rejecting U.S. concerns that Iran is trying to develop nuclear weapons, said Friday that Russia would continue to assist the Islamic Republic with nuclear and military projects.
He also said he soon would make a state visit to Iran.
Putin's comments, made less than a week before he and President Bush are due to meet in Bratislava, Slovakia, threaten to complicate Bush's efforts to get an international consensus on how to deal with Iran's nuclear program, a key goal of his European trip that begins Sunday.
The White House has argued that Iran's nuclear program appears aimed at producing nuclear weapons, not just generating electricity, as Iran maintains.
Putin disagreed. "The latest steps taken by Iran have convinced us that Iran does not intend to produce nuclear arms," he said after meeting at the Kremlin with Hassan Rowhani, the head of Iran's national security council.
"We will continue cooperation in all areas, including nuclear power," Putin said, adding that there would also be "military-technical" cooperation.
In Washington, Bush and his senior aides offered a muted response to Putin's assertions.
Secretary of State Condoleezza Rice, the architect of Bush's Russia policy, noted that Russia had promised to provide fuel for Iran's Russian-built nuclear reactor at Bushehr only if Tehran agreed to inspections and promised to return the spent fuel, so it couldn't be used to manufacture a nuclear or radiological weapon.
"I think the behavior of everyone suggests that there are good reasons to be suspicious of what the Iranians are doing," Rice said at an appearance with Dutch Foreign Minister Bernard Bot. The European Union is negotiating with Iran about nuclear issues, and the International Atomic Energy Agency also is scrutinizing Iran's activities.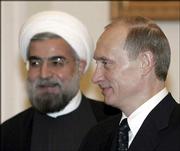 Just days after next week's Bush-Putin summit, the head of Russia's nuclear agency is to travel to Tehran to sign agreements to supply nuclear fuel to the Bushehr reactor. The fuel shipments could make the plant operational early next year.
American-Russian relations have become more tense in recent days. On Thursday, the United States protested Russian plans to sell surface-to-air missiles to Syria.
Bush emphasized his close ties to Putin in an interview Friday with Russia's Itar-Tass news agency.
Copyright 2018 The Lawrence Journal-World. All rights reserved. This material may not be published, broadcast, rewritten or redistributed. We strive to uphold our values for every story published.