Kansas University men's basketball coach Bill Self's practices are known for their competitive nature, but right now it appears two Jayhawks are pushing each other more than anyone else.
Backup point guards Russell Robinson and Jeff Hawkins are dead-even for the No. 2 spot behind senior Aaron Miles, according to the second-year KU coach. And now, with the return from injuries of C.J. Giles and versatile guard-forward Alex Galindo, the battle for minutes off the bench has become a spotlight topic.
"I can see it working out for both of us," said Hawkins, a junior from Kansas City, Kan., who didn't play in Monday's loss against Texas Tech but has been KU's second guard off the bench behind senior Michael Lee. "I think it's pushing both of us to go out and compete every day. That's what I think coach is trying to get out of each of us, no matter who has the better day."
But Self said the Jayhawk who had the better day in practice would play.
"We haven't played Russell much or Jeff as much when we've substituted," Self said. "We've played four perimeter guys moreso than five. I'd like to play Russell. I do want to play Russell. Whoever plays the best between Russ and Hawk in practice is the one will play in the game, because right now they are about even."
But that hasn't been the case all year.
Freshman Robinson, a combo guard out of New York's Rice High, backed Aaron Miles early this season and tallied double-digit points in two of the Jayhawks' first three games.
Robinson had 13 points against Nevada, chipped in a handful of crucial points in the last minute of a close victory over South Carolina and put up 12 points the next game against Wisconsin-Milwaukee.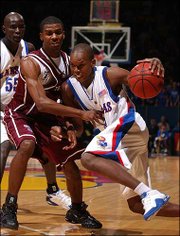 Yet, as Robinson's confidence soared, he suddenly hit the fabled "freshman wall." Robinson has played only 17 minutes in KU's last seven games.
"He went through what every freshman in America goes through, but I think he's handled it the right way," Lee said. "He has his head on straight, he's remained positive and he knows his time's going to come. But he's had to come to the fact that he has to keep working hard every single day and everything will be fine."
Everything wasn't fine for Hawkins at season's start when he was suspended for undisclosed violation of team rules, but he's battled back nicely. In a four-game stretch from KU's loss at Villanova to the Jayhawks' victory against Missouri, Hawkins logged 53 of his season's 78 minutes and scored 25 points. He scored 15 points in 13 minutes at Baylor.
"I think ideally we'll have to narrow it down to about seven or eight deep, but it's always good to have people ready to step in and contribute without hurting you," Lee said. "It's just all about being ready when you have that opportunity."
Copyright 2018 The Lawrence Journal-World. All rights reserved. This material may not be published, broadcast, rewritten or redistributed. We strive to uphold our values for every story published.