Alexandria, Va. — A former top Boeing Co. executive was sentenced to four months in prison Friday for illegally negotiating a $250,000-a-year job for an Air Force contracting officer while she held sway over a potential multibillion-dollar contract sought by the huge aircraft manufacturer.
One-time Boeing chief financial officer Michael Sears, 57, pleaded guilty in November to a single count of aiding and abetting illegal employment negotiations. Specifically, Sears negotiated to hire Darleen Druyun at the same time she was reviewing Boeing's bid for a $20 billion contract from the Air Force for refueling tankers.
Federal sentencing guidelines called for a prison term of zero to six months. Prosecutors sought incarceration for Sears, while his lawyers sought probation.
U.S. District Judge Gerald Bruce Lee said jail time was appropriate, though he acknowledged that Sears' conduct wasn't as severe as that of Druyun, who initiated the job negotiations and was sentenced to nine months in prison.
"Yours is not equal to hers," Lee said.
Lee also imposed a $250,000 fine and 200 hours of community service for Sears.
Druyun is serving her sentence at a minimum-security prison camp for female offenders in Marianna, Fla. Her expected release date is Oct. 1.
At the hearing, Sears apologized to the Air Force, the Department of Defense, his friends and family and the citizens of the United States for his actions.
"I take full responsibility for this bad decision," said Sears, Boeing's CFO until November 2003, when the company fired both him and Druyun after an internal investigation. "I know what I did was wrong."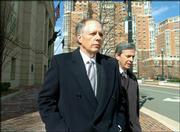 Sears' lawyer, Ted Poulos, said his client was put in a bad spot by Druyun, who had already negotiated a job deal with a Boeing competitor even though she was still overseeing the tanker contract. Because of Druyun's clout in the Air Force procurement process, she was considered an ideal job recruit by numerous contractors.
"All of her conduct stands in stark contrast to Mr. Sears' conduct," Poulos said.
Prosecutor Robert Wiechering did not dispute that Druyun initiated the job discussions.
"That's true, but it takes two to tango," Wiechering said, adding that Sears' actions placed "a cloud over Air Force procurement that is not going to be dispelled for years."
Wiechering said a jail sentence was necessary to deter others and because alternatives, like home detention, would not be a sufficient punishment for Sears, given that his home is worth about $5 million.
Druyun admitted to investigators after she failed a lie detector test that she gave Boeing an inflated price on the tanker contract as a "parting gift" to Boeing before she retired from the military and took her job with them.
She also admitted giving preferential treatment to Boeing on other contracts through the years because the company had given her daughter a job.
The Pentagon subsequently canceled Boeing's tanker contract and is reviewing other contracts in which Druyun may have acted illegally. Prosecutors say that the investigations alone have cost the government about $2.5 million.
U.S. Atty. Paul J. McNulty said Sears "had the choice of putting the interests of the Boeing Co. ahead of the taxpayers. He put Boeing's interests first and that was the wrong choice."
McNulty said the investigation into Boeing was continuing and he announced after Sears' sentencing the creation of a multi-agency task force to ferret out similar instances of fraud.
In court papers, prosecutors pointed out that Sears sent an e-mail to other senior management at Boeing advising them of a secret meeting -- which he described as a "non-meeting" -- he'd had with Druyun to discuss the job.
"The senior management of Boeing did not confront the obvious legal and ethical issues presented by these employment negotiations," prosecutors wrote. "Rather than reacting with concern to a questionable 'non-meeting' with a senior government official these Boeing executives appear to have accepted the negotiations as business as usual."
McNulty said Friday that those comments do not necessarily indicate any criminal intent on the part of Boeing management other than Sears. He said the investigation "will proceed one step at a time as the facts and the law allow us to go."
Boeing general counsel Doug Bain issued a statement following the sentencing saying, "Today's action brings this matter one step closer to closure. The Boeing Co. has provided information every step of the way to support the government's ongoing review of Darleen Druyun-related procurements and to achieve our mutual goal to finally resolve this matter."
Boeing shares fell 88 cents to close at $52.78 in Friday trading on the New York Stock Exchange, up 39 percent from its 52-week low of $38.04 last March. Lockheed Martin shares fell 11 cents to close at $59.19 on the NYSE.
Copyright 2018 The Associated Press. All rights reserved. This material may not be published, broadcast, rewritten or redistributed. We strive to uphold our values for every story published.