LINCOLN, NEB. — The Nebraska Supreme Court granted clemency Friday to a death row inmate of the four-legged variety -- a dog condemned for fighting with a neighbor's pet.
The dog, Murphy, has been marked for death since 2001, when Lancaster County Judge Laurie Yardley ordered the female Alaskan malamute-shepherd mix destroyed.
That decision was upheld by another judge and Murphy's owners appealed to the high court, saying the scuffle had been blown out of proportion.
And Friday -- some 28 years later in dog years -- the highest court in the state agreed.
"We conclude that the order for the destruction of the dog was not reasonable," wrote Judge John Wright. "The county court ... abused its discretion."
The Dittoes adopted Murphy in 1994 from a friend who found her malnourished and lying in a ditch. After Murphy fought with neighborhood dogs several times, the couple took her to a trainer and put up a six-foot fence. But she got out again when a gate was accidentally left open. Murphy and Chloe, the Dittoes other dog, slipped out and got into a fight with a neighbor's dog.
Murphy was then deemed dangerous by Sheriff Terry Wager, but he and the dog's veterinarian testified that they did not think it should be killed.
The Dittoes were found guilty of letting their dogs run free. And to their shock, Yardley ordered Murphy destroyed.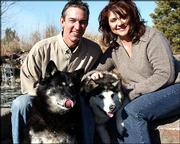 The Dittoes were allowed to keep custody of Murphy while they appealed the case.
In Friday's ruling, the high court agreed that the 2001 fight was minor in nature.
"The incident resulted in what appears to be a relatively minor injury, in that the owner of the dog waited two days to have the dog seen by a veterinarian and the bill for treatment was $34.06," Justice William Connolly said.
Copyright 2018 The Associated Press. All rights reserved. This material may not be published, broadcast, rewritten or redistributed. We strive to uphold our values for every story published.