Despite the annual push to have people 65 and older vaccinated against influenza, new research spanning more than three decades of government health data strongly suggests that the program has not saved lives.
The finding, coming on the heels of last fall's vaccine shortage, seemed to send a contradictory message: that older people, often deemed at high risk, should not bother with flu shots.
But the lead investigator, Lone Simonsen, an epidemiologist at the National Institute of Allergy and Infectious Diseases, said that's not the message. Rather, she said, it's telling the government to find a better way to protect the elderly from the flu -- and that includes developing better vaccines and involving more children, the major carriers of the virus, in strategies to get the shots.
The study was published in Monday's Archives of Internal Medicine.
"We are not in any way saying that older people should not get their flu shots," Simonsen said in an interview Monday. "What we are saying is that vaccinating the elderly is not as effective as other studies have led us to believe."
Each year about 36,000 people, most elderly, die of influenza complications.
Simonsen and other researchers independent of her study said they hoped the findings will influence the federal government's vaccination policies.
A spokesman for the federal Centers for Disease Control and Prevention Monday said there were no plans to change the policies based on Simonsen's work.
Simonsen and a second researcher recommend that school-age children should be the primary focus of annual flu vaccination programs. The CDC targets the elderly, people with compromised immunity and children under 2 as being most likely to suffer complications and death from influenza.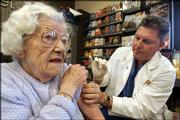 Copyright 2018 The Lawrence Journal-World. All rights reserved. This material may not be published, broadcast, rewritten or redistributed. We strive to uphold our values for every story published.