New York — Trudy looked like such a sweet Dalmatian. A black spot over her left eye, she gobbled down a pretzel treat and wagged her tail when a little girl in a Valentine's Day outfit came up to pet her.
Only moments later Monday at the Westminster Kennel Club show, she lost it. Because when a respected judge tried to open her mouth for a closer look, Trudy growled.
"She misbehaved," owner-handler Janice Brennan said.
Then again, maybe Trudy knew what was in store. Because when it comes to the most popular breeds in the nation, almost all of them are in the Westminster doghouse.
Dalmations, labrador retrievers, golden retrievers, beagles, Dachshunds -- none of them have ever taken the coveted best in show title at America's most prestigious canine event.
Instead, it's those terriers -- wire fox terriers, smooth fox terriers, Norwich terriers, Scottish terriers and Kerry blue terriers. Overall, they've won 43 of 96 times.
"They're just such showy dogs," said Jackie Thatcher, who brought her wire fox from Texas to Madison Square Garden.
For sure, some dogs do seem to show up better than others on the green carpet. And before the first sellout crowd in Westminster history, toy dogs did well during the early competition.
A pert Pomeranian co-owned by Bill Cosby breezed in best of breed. Perched on one leg, Wicked Mean-N-Nasty's bright eyes lit up when he was picked.
Chihuahuas are among the breeds that have never won at Westminster. That could change this year, though, because of I Believe I Can Fly.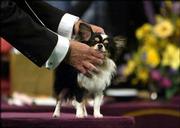 He's of the long hair variety, not the smooth coat popularized by those Taco Bell commercials and carried around by Paris Hilton.
"They're not taken seriously," said Jim Lehman, a handler of smooth coats.
Neither are a lot of the dogs, at least when it comes to making the final cut of seven group winner. All of the 2,581 dogs entered in the 165 breeds and varieties are champions, yet many never really have a chance.
Labrador retrievers have been the most popular purebred dogs in America for 15 straight years -- 146,692 were registered in 2004, according to the American Kennel Club. Golden retrievers were next (52,550) and German shepherds (46,046).
At Westminster, their combined best in show total is a little lower: zero.
"No, it's not fair," said Sue Ellen Manning, who breeds Labs. "We're not a glamour breed."
And that makes sense to David Frei, the longtime host of USA Network's television coverage. Some dogs are just meant for the show ring.
"It's the nature of what dogs are bred to do. Terriers are always on their toes, looking for trouble. It's their world, and we're just lucky to be living in it," he said.
Copyright 2018 The Associated Press. All rights reserved. This material may not be published, broadcast, rewritten or redistributed. We strive to uphold our values for every story published.