The Rev. Dan Nicholson enlisted in the Marines 35 years ago because he wanted to go to South Vietnam and fight.
"As a young man I felt and truly believed it was my patriotic duty to serve my country," said Nicholson, now the pastor at Lawrence Christian Center, 416 Lincoln St. "I think every young person ought to have a little bit of military service and serve their country."
Like father, like son -- and like daughter.
Nicholson's son, Adam Nicholson, joined the Marines after he graduated from Lawrence High School in 2003. Today he is a lance corporal assigned to an intelligence unit at Camp Lejeune, N.C.
And in August, three months after she graduates from LHS, Jennifer Nicholson will go through Marine boot camp at Parris Island, S.C.
The children said their dad never pushed them into the Marines. In fact, they said, Dan Nicholson was surprised by their decision.
"I think he was kind of excited, but I think it did catch him off guard," Jennifer Nicholson said.
"The thing I feel for both of them is pride," Dan Nicholson said. "I am very proud of them."
Dan Nicholson said he cried when the Marines rejected his request to fight in Vietnam. He had wanted to avenge the death of a high school friend who died in the war that was stirring controversy and protests in the United States.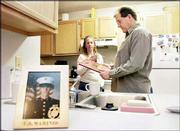 "I felt like I had been trained to do something and wasn't being allowed to do it," Nicholson said.
Nicholson was the only son in his family, and the Marines do not send an only son into combat.
Instead, Nicholson was sent to Cherry Point Marine Corps Air Station in North Carolina, where he was assigned administrative duties. Later, however, the Marines discovered Nicholson was an expert rifle marksman and assigned him to train other shooters.
"As a boy growing up in the mountains of West Virginia, I liked to shoot," Nicholson said.
Nicholson served three years each of active and inactive duty before leaving the Marines. His life spiraled out of control after he left the Marines, however, because of alcohol and drug abuse.
"I hit a real low point in my life and started going back to church," Nicholson said. "After I became a Christian, it was like a deliverance. It was like God took away the dependency of alcohol and substance abuse from my life."
In 1979, Nicholson was ordained full-time into the Christian ministry. He pastored churches in Pennsylvania and North Carolina near Camp Lejeune -- a large number of Marines and their families were in his congregation -- before coming to Lawrence 12 years ago.
Nicholson sees no contradictions in being both a man of God and a former Marine who was willing to kill. The Bible, he said, makes a distinction between killing in self-defense and murder.
"If you read the Bible, you understand that God's children went to war to protect what God had given them," Nicholson said. "I believe that the reason we should be in Iraq is to protect ourselves here in the war on terrorism. War is not for the sake of trying to impose your beliefs and values on somebody else as much as it is to protect our way of life."
Father's footsteps
Adam and Jennifer Nicholson said their dad's high regard for the Marines and serving their country was a powerful example.
"He supported my decision," Adam Nicholson said in a telephone interview from Camp Lejeune. "But he wanted to make sure I was doing it for the right reasons."
Adam and Jennifer said they would use the Marines as a springboard for obtaining financial help to further their education. Adam is working on a college degree while in the Marines and hopes to attend Kansas University School of Law. Jennifer will get paralegal training in the Marine Corps.
Jennifer completed her LHS credits in December and will participate in graduation this spring. She already is preparing for training -- doing some unpaid volunteer work at the Marine recruiting office, following a physical workout regimen and memorizing Marine general orders. She also works at the Eudora grocery store.
"I'm sure they (Marines) will get me in the best physical shape I've ever been in," she said. "I think they'll offer me a lot of self-confidence and a sense of pride in belonging to such an elite group of people."
Adam said he was confident his sister would make a good Marine. He will be leaving for Iraq when she enters training.
"I'm proud of her," he said. "I think she can do it. But I'm little disappointed that I won't be able to be there when she graduates from boot camp."
Dan Nicholson said he had mixed emotions about what his children face in the immediate future.
"You commit them to God's care, ask him to protect them and look over them," he said. "There comes a time when you let go of your children and trust that you have done the best you can as a parent, then your faith in God comes into play and you commit them to it."
Copyright 2017 The Lawrence Journal-World. All rights reserved. This material may not be published, broadcast, rewritten or redistributed. We strive to uphold our values for every story published.